(Hastings, Neb.) –  In 1989, Hastings College established its Athletic Hall of Fame to honor and preserve the memory of athletes, teams, coaches and those who have contributed meritorious service to Hastings College and its athletic programs.
On Saturday, September 21, the 25th class was inducted. It included track and field standout Chad Drehle '93 of Jefferson City, Mo., Hastings College Trustee Lyle Fleharty of Hastings, Neb., and Bronco Men's Basketball star Craig Frahm '88 of Bellevue, Neb. Additionally, the College recognized its 2013 Alumni Coach of the Year, Todd Raridon '80 of Plainfield, Ill.
Full citations for the awardees are listed below.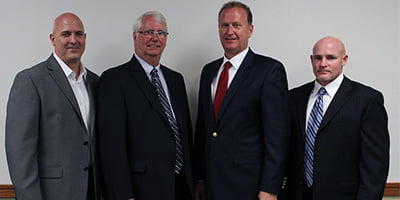 Pictured left to right are Craig Frahm, Lyle Fleharty, Todd Raridon and Chad Drehl.
2013 Athletic Hall of Fame Inductees
Chad Drehle '96, Track and Field and Football
Chad Drehle '96 was Hastings College's first NAIA National Indoor Track and Field Champion, winning the honor in 1995 by clearing seven feet in the high jump.  Drehle, whose high jump mark still stands as the school record, received All-American status and the college's 1995 Frank Prince Award for Outstanding Male Athlete. Additionally, Drehle started for the nationally ranked Bronco Football team as a wide receiver.
Craig Frahm '88, Men's Basketball
As Captain of the 1988 Bronco Men's Basketball team, Craig Frahm '88 provided vital leadership to a squad which qualified for the national tournament and tied the school record for most wins per season at 27 wins. Well-respected on the court and in the classroom, Frahm was named Captain of the Omaha World-Herald All-State team, earned All-NIAC honors for two years, played in the 1988 NAIA District 11 All-Star Game, and was named the 1988 NAIA District 11 Player of the Year. The 1987-1988 Bronco Men's Basketball team was inducted into the Hastings College Athletic Hall of Fame in 1997.
Lyle Fleharty, Meritorious Service
For many years, Lyle Fleharty has championed Bronco Athletics. He and his wife, Diann, have generously contributed funds and leadership toward the construction of the Osborne Family Sports Complex, including the Lynn Farrell Arena, the Osborne Mears Track, the Lloyd Wilson Field and the Dr. Ken Rhodus Women's Basketball Locker Room. The Fleharty Educational Center, in which Lynn Farrell Arena is located, is named in honor of his father, Vernon B. Fleharty, a 1928 Hastings College graduate who taught served as Chairman of the Chemistry Department at the College from 1936-1956. Fleharty has provided both athletic and academic scholarships for Hastings College students, earned the President's Award in 2002 and served as Chairman of the Board of Trustees Building and Grounds Committee since 2002. The Flehartys have been stalwart fans of Hastings athletics – at the college as well as at all levels in the Hastings community. As the brother of Bronco Football player Gene Fleharty, the father of a Bronco Baseball player Mark Fleharty, an employee and a 15-year member of the Hastings College Board of Trustees, Fleharty has cheered the crimson and white to many a victory.
2013 Alumni Coach of the Year
Todd Raridon '80
A four-year letterman for the Hastings College Bronco Men's Basketball team, Todd Raridon has established a record of excellence coaching the sport he loves, first at Nebraska Wesleyan and currently at North Central College.
In his nine years as Head Coach of the North Central Cardinals, he has amassed a 156-87 record – a .642 winning percentage. Raridon has led the team to two College Conference of Illinois and Wisconsin (CCIW) championships and three NCAA Division III Men's Basketball Championships, including the school's first Final Four appearance in 2013. The McCook, Neb., native earned two consecutive CCIW Coach of the Year awards  and was named Midwest Region Coach of the Year by the National Association of Basketball Coaches (NABC) in 2012. Among his players have been 13 All-CCIW players and three CCIW Player of the Year Award winners.
While serving as Head Coach of Men's Basketball at Nebraska Wesleyan for 15 years, Raridon's record was 269-125. He took his teams to the NCAA Division III tournament seven times and won six conference titles. In its 1997 campaign, Nebraska Wesleyan made its first-ever men's basketball national title game appearance, and Raridon was named NCAA III Coach of the Year.
Founded in 1882, Hastings College is a private, four-year liberal arts institution located in Hastings, Nebraska, that focuses on student academic and extracurricular achievement. With 64 majors in 32 areas of study and 12 pre-professional programs, Hastings College has been named among "America's Best National Liberal Arts Colleges" by U.S. News & World Report, a "Best in the Midwest" by The Princeton Review and a "Best Buy in College Education" by Barron's. Visit Hastings.edu for more.