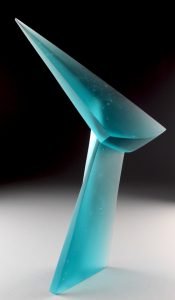 Chad Holliday, Hastings College visiting assistant professor of art–glass, will exhibit work, represented by AiBo Gallery, at the annual Sculpture Objects Functional Art and Design (SOFA) fair at Navy Pier in Chicago, Illinois. His work will be on display for the premier gallery-presented art fair from October 31 until November 3.
A group of Hastings College students majoring or minoring in art will get to see Holliday's exhibition—and all of SOFA—first hand, as they will be traveling to Chicago to visit SOFA and several art museums.
In 2007, Holliday received a Fulbright Fellowship to research glass education at the first glass school in the world, Secondary School of Glassmaking in Kamenicky Senov, Czechia. Holliday's time spent in Czechia has influenced his work through his strong understanding of Cubism, Constructivism and Czech aesthetic, with regard to glass.
"In these works, and the latter, it is always about an exploration of space and the utilization of light as a medium, inherent in this form of glassmaking," he said.
Holliday received a BFA from Emporia State University in Emporia, Kansas and an MFA in glass sculpture and metal fabrication/jewelry design from the Rochester Institute of Technology in Rochester, New York.
After completing his graduate work, Holliday accepted an artist in residence at the Grand Crystal Museum in Taipei, Taiwan. During his residency, Holliday collaborated with artists and educators, working directly with their students in the studio and classroom.
Holliday's artwork has been published in the New Glass Review and he has had acquisition by multiple museums including The Museum of Glass in Tacoma, Washington and The Museum of Applied Arts in Prague, Czechia.
Nebraska's premier private college, Hastings College is a four-year institution located in Hastings, Nebraska, that focuses on student academic and extracurricular achievement. Hastings College has been named among "Great Schools, Great Prices" by U.S. News & World Report and a "Best in the Midwest" by The Princeton Review. For more, go to hastings.edu.