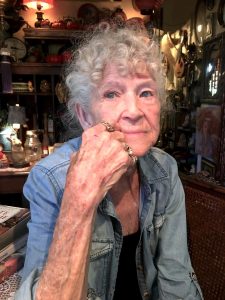 Assemblage sculptures of Hastings artist Jo Nelson will be showcased in the west gallery at Hastings College's Jackson Dinsdale Art Center (JDAC) from August 15 to September 16. A closing reception for the artist is Friday, September 16 from 7 to 9 p.m. in the JDAC.
The gallery is free and open to the public Monday through Friday from 9:00 a.m. to 5:00 p.m. The JDAC is located at 700 E. 12th Street in Hastings.
Nelson began her career as an artist in Sioux City, Iowa. In the late 1970's she moved to Hastings where she was recognized as a prominent local artist. By the mid-1980's Nelson and her partner Bill Nelson were maintaining a studio and residence in Palm Beach, Florida, as well. Bill managed her career, exhibiting her work in juried art expositions from Lincoln Center in New York City to venues in Santa Fe, New Mexico; Chicago, Illinois; Nashville, Tennessee; Key West, Florida; Alexandria, Virginia; Seattle, Washington; and Dallas, Texas, to name a few.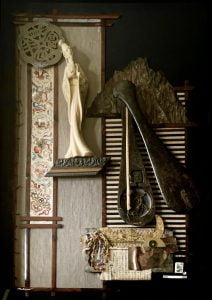 With no formal training, her career as a folk artist started as a painter. She taught herself serigraphy and worked in that medium for many years. She found great success when she began making assemblages.
With a keen interest in Asian and African objects and philosophy, Nelson became well-known and critically acclaimed for her compositional skills. Armed with an extensive inventory of collected objects, this prolific artist created a large corpus of work that found homes in national and international collections.
With the restrictions of the Covid pandemic, Jo and Bill returned to Nebraska full-time, and Jo continues to make art in her Hastings studio at the age of 84.
Hastings College is a four-year residential college that focuses on student academic and extracurricular achievement. Hastings' student-centered initiatives include providing books, an iPad and a two-week study away experience at no additional cost. A block-style semester schedule allows professors and students to focus on fewer classes at a time and promotes hands-on experiences. Discover more at hastings.edu.