The Hastings College Artist Lecture Series Student Symposium committee is pleased to announce its upcoming speaker series entitled, "Water." The event spans Monday, October 24 to Thursday, October 27, and features keynote speakers Nicholas Brozovic, director of policy at the Water for Food Global Institute at the University of Nebraska; Dr. Lujendra Ojha, a Blaustein Fellow from Johns Hopkins University; and Michael Klein, a lawyer who represents clients concerning water and water rights.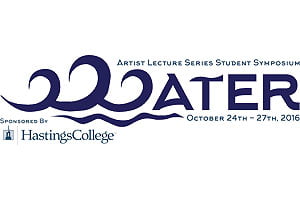 Each of the keynotes, plus five additional speakers, will focus on a facet of water in their respective disciplines. Lecture topics range from common misconceptions about water use, to the discovery of liquid water on Mars.
The full schedule of events and additional information about the speaker series is available at hastings.edu/ArtistLectureSeries.
"The speakers and topics that the Student Symposium Committee selected for this year are spectacular. The wide variety of topics showcases our academic diversity as an institution, and we hope students engage in this opportunity to learn from speakers in multiple disciplines," said Kenzie Shofner, a junior from Maple Plain, Minnesota, and Artist Lecture Series Student Symposium Committee co-chair. "We are blessed to have such and amazing and educational event as a small liberal arts institution."
Updates about the event can be found on Facebook, Twitter and Instagram. Artist Lecture Series Student Symposium events are free and open to the public unless otherwise noted.
Bios for Keynote Speakers
Nick Brozovic is Director of Policy at the Water for Food Global Institute at the University of Nebraska–Lincoln. He works to ensure that the Institute's programs inform water management policies and decision makers. Brozovic has over 15 years of experience in water policy worldwide. A particular focus of his research is on evaluating policies and governance structures for agricultural water management, including water market design and implementation. He holds doctoral and master's degrees in agricultural and resource economics from the University of California-Berkeley, a master's degree in geology from the University of Southern California and a bachelor's degree in geology from Oxford University.
Lujendra Ojha is a 26-year-old Blaustein Fellow from Johns Hopkins University in Baltimore. He was born in Kathmandu, Nepal and moved with his family to Tucson, Arizona when he was 15 years old. While attending the University of Arizona as an undergraduate student, he discovered mysterious, water-like streaks on the slopes of Martian craters. The discovery led to a published article in "Science" when Ojha was 21 years old. Last summer, Ojha and NASA announced the findings of his latest study: that water does play a role in the formation of the streaks on present-day Mars. Ojha is involved in many other research projects and has published papers on asteroids, comets, Mars, Earth and the moon. Ojha's career goal is to work in a space research field. As for traveling to Mars someday, Ojha says he wouldn't hesitate if given the opportunity. His favorite hobbies are mountain biking and playing guitar. Before he discovered water on Mars, Ojha used to play in a heavy metal rock band.
Michael Klein has been engaged in the general practice of law since 1977 representing clients concerning water and water rights, estate planning, probate, real estate and business law matters, wrongful death cases and personal injury cases. Klein is a graduate of the University of Nebraska–Kearney and the University of Nebraska–Lincoln College of Law, completing his education in 1977. He is a member of the Phelps County Bar Association, the Tenth Judicial District Bar Association, the Nebraska State Bar Association and the American Bar Association. Klein is admitted to practice before the Nebraska Supreme Court, the U.S. District Court for the District of Nebraska and the U.S. Supreme Court. Klein practices in the Holdrege, Kearney and Minden offices.
Hastings College is a private, four-year institution located in Hastings, Nebraska, that focuses on student academic and extracurricular achievement. With 64 majors and 15 pre-professional programs, Hastings College has been named among "Great Schools, Great Prices" by U.S. News & World Report and a "Best in the Midwest" by The Princeton Review. For more, go to hastings.edu.