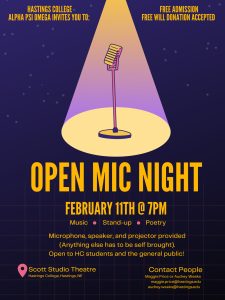 Alpha Psi Omega (APO), the Hastings College theatre student honorary, is hosting a community open mic night on February 11, at 7:00 p.m., in the Scott Studio Theatre. Hastings College students and the general public are invited to register and perform for the audience.
Admission is also free and open to the public, but free will donations will be accepted.
Each performer will have a five minute time slot. A microphone, speaker and projector will be provided, but participants need to bring any other needed materials. Possible acts include music, stand-up and poetry, and APO encourages all creative mediums to participate.
Those looking to perform are asked to register in advance at forms.gle/pjuhtLv64Mwm95pLA. Performer guidelines are linked in the registration form.
For more information, performers can contact Maggie Price at maggie.price@hastings.edu or Audrey Weeks, audrey.weeks@hastings.edu.