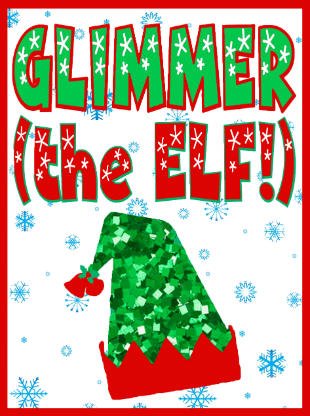 When Ellie loses her Christmas spirit, Santa sends his special elf Glimmer to help her and her family remember what the season is all about in the Hastings College Alpha Psi Omega's production of  "Glimmer (the ELF!)," written by HC alumna Jessica Brock.
Showtimes are 7:30 p.m. Thursday, Friday and Saturday, December 1, 2 and 3, plus a 2:00 p.m. matinee on Saturday, December 3. Performances are in Scott Studio Theatre (806 N. Turner Ave.). All seats are $5 and can be reserved in advance by emailing tickets@hastings.edu.
This is the premier of the family-friendly play by Brock, who graduated from Hastings College with a degree in human services administration in 2007 and a masters of arts in teaching degree in 2011.
Hastings College Department of Theatre Arts Presents the annual Alpha Psi Omega production for youth "Glimmer (the ELF!)" by Jessica Brock.
CAST:
Glimmer: Basil Rabayda of Phoenix, Arizona
Santa: Dodge Weishaar of Bison, South Dakota
Ellie: Kiley Logan of Colorado Springs, Colorado
Mr. F: Alex Gentry of Walton, Nebraska
Mrs. F: Greer Anderson of Colorado Springs, Colorado
Nurse: Jordan Samuelson of Kearney, Nebraska
Tick/ Male Swing: Alex Rieflin of Doniphan, Nebraska
Toc/ Female Swing: Carly Cremers of Columbus, Nebraska
Fiddle: Kaitlyn Goligoski of Castle Rock, Colorado
Diddle: Joe Daake of Kearney, Nebraska
Tinsel: Victoria Green of Broomfield, Colorado
Tinkle: Maggie Ortiz of Denver, Colorado
CREW:
Director: Alyssa Rock of Denver, Colorado
Stage Manager: Emma Atuire of Denver, Colorado
Assistant Stage Manager: Sabrina Maxwell of North Richland Hills, Texas
Scenic Designer: Nate Mohlman of Blue Hill, Nebraska
Charge Artist/Run Crew: Cheyenne Knehans of Riverton, Nebraska
Scenic Crew: Adam Camp of Erie, Colorado; and Laurel Teal of Castle Rock, Colorado
Costume Design/Hair/Makeup/Properties/Public Relations: Rebecca Holcomb of Parker, Colorado
Costume Assistant: Anya Bliska of Shelton, Connecticut
Hair/Makeup Assistant: Randi Scoggins of Grand Island, Nebraska
Properties Assistant: Mason Lindbloom of Hordville, Nebraska
Lighting Assistant: Austin Heinlein of Hutchinson, Kansas
Sound: Barrett Russell of Saronville, Nebraska
Sound Assistant: Jacqueline Rollins of Highlands Ranch, Colorado
Box Office: Nathanael Sass of Hastings, Nebraska
Hastings College is a private, four-year institution located in Hastings, Nebraska, that focuses on student academic and extracurricular achievement. With 64 majors and 15 pre-professional programs, Hastings College has been named among "Great Schools, Great Prices" by U.S. News & World Report and a "Best in the Midwest" by The Princeton Review. For more, go to hastings.edu.