Alpha Chi celebrated its 70th academic year on Hastings College campus recently by inducting seven new students.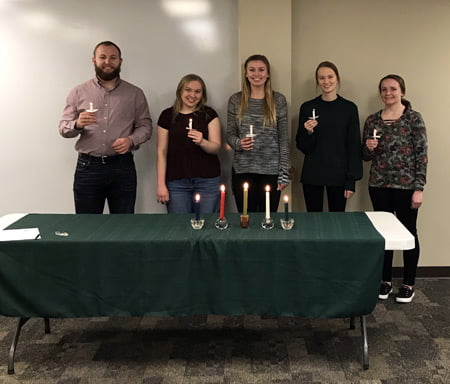 Alpha Chi is a coeducational academic honor society designed to promote academic excellence and exemplary character among college students and to honor those who achieve such distinction. Only juniors and seniors who place in the top 10 percent of their class from all academic disciplines are eligible for this elite academic honor.
Students with membership in Alpha Chi help host activities on campus such as the Bronco Brain Buster Quiz Bowl and Academic Showcase Day.
The Hastings College chapter was established in 1949 by Frank Weyer and Ruth Harris. Weyer was dean of the College at the time and and Harris was the librarian.
This year's new members include:
Kaelen Dea of Greenwood, Nebraska
Megan Dlouhy of Lincoln, Nebraska
Kylie Koehler of Gothenburg, Nebraska
Cassidy Ostrand of Central City, Nebraska
Claira Thede of Palmer, Nebraska
Jess Trad of Hewitt, Wisconsin
Emily Wiegert of Grand Island, Nebraska
Hastings College is a private, four-year institution located in Hastings, Nebraska, that focuses on student academic and extracurricular achievement. Hastings College has been named among "Great Schools, Great Prices" by U.S. News & World Report and a "Best in the Midwest" by The Princeton Review. For more, go to hastings.edu.