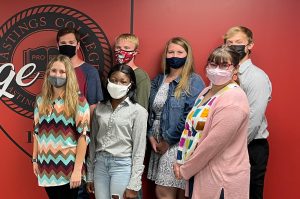 The Hastings College chapter of Alpha Chi, the collegiate all-discipline academic honor society, inducted seven students on October 19.
The purpose of Alpha Chi is to promote academic excellence and exemplary character among college and university students and to honor those who achieve such distinction. Students accepted are those who place in the top 10 percent of their class from all academic disciplines.
Students with membership in Alpha Chi help host activities on campus such as the Bronco Brain Buster Quiz Bowl and Academic Showcase.
The Hastings College chapter was established in 1949 by Frank Weyer and Ruth Harris. Weyer was dean of the College at the time and Harris was the librarian.
This year's Alpha Chi inductees are listed below.
Matheson Baird, a junior from Fraser, Colorado, who is majoring in biology.
Shelby Banks, a junior from Enterprise, Kansas, who is majoring in elementary education.
Logan McCullough, a junior from Broken Bow, Nebraska, who is double majoring in computer science and psychology.
Jocelyn Polacek, a senior from Omaha, Nebraska, who is majoring in psychology.
Kinser Rafert, a junior from Sutton, Nebraska, who is majoring in history.
Emma Severson, a sophomore from Hickman, Nebraska, who is majoring in biochemistry.
Kianté Stuart, a junior from Nassau, The Bahamas, who is triple majoring in business administration, communication studies and marketing.
Hastings College is a four-year residential college that focuses on student academic and extracurricular achievement. Hastings' student-centered initiatives include providing books, an iPad and a two-week study away experience at no additional cost. A block-style semester schedule allows professors and students to focus on fewer classes at a time and promotes hands-on experiences. Discover more at hastings.edu.