Jessica Allen-Pickett, Hastings College assistant professor of education, will give an Invited Faculty Lecture titled "Baking, Teaching and Service" on Wednesday, January 27, at 1:00 p.m. in French Memorial Chapel.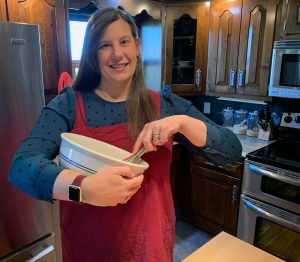 While the event is free and open to the public, attendance is limited to 100 people and masks are required. The lecture will be posted on the Hastings College YouTube channel and social media after the event.
"This lecture grows out of a question I have pondered most of my adult life: Am I using my education and my chosen life path to serve others? While I'm not sure I come to a definitive answer in this lecture, I wrestle with the question for myself and hope to invite others to ponder the same question for themselves," she said.
Using baking as a metaphor for teaching, Allen-Pickett will simultaneously make a batch of chocolate chip cookies and reflect on how to be a teacher, learner and human being who contributes to the common good.
The motto of her undergraduate college, Pacific Lutheran University, was "Educating for Lives of Service." Through her lecture she will reflect on that motto through the lens of her experiences as a high school English teacher and administrator, a stay-at-home mom and an assistant education professor at Hastings College.
Allen-Pickett's lecture is sponsored by the Hastings College Lecture Series. She was invited to give the lecture by Hastings College students, who, every spring, vote to select two faculty members to present campus-wide lectures on the professors' topics of choice. Considered a prestigious honor for the faculty, the tradition dates to 1967.
Biography for Jessica Allen-Pickett
Jessica Allen-Pickett moved with her husband, daughter and exuberantly friendly black labrador-beagle mix to Hastings in 2017. Shortly after they arrived, she joined the Hastings College community. After earning her B.A. from Pacific Lutheran University in Tacoma, Washington, Allen-Pickett taught and lived in Cuenca, Ecuador; Juneau, Alaska, and Denver, Colorado, where she earned her M.A. in administrative leadership and policy studies and served as a high school assistant principal. She has also enjoyed living in Austin, Texas; Louisville, Kentucky; and Atlanta, Georgia.
When not on campus working with student teachers and teaching classes in the Teacher Education Department, Allen-Pickett is working on her EdD at Doane University, reading, paddle boarding with her family and exploring the world around her.
Hastings College is a four-year residential college that focuses on student academic and extracurricular achievement, Hastings' student-centered initiatives include providing books, an iPad and a two-week study away experience at no additional cost. A block-style semester schedule allows professors and students to focus on fewer classes at a time and promotes hands-on experiences. Discover more at hastings.edu.