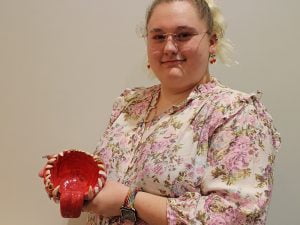 Prizes were announced after the February 9 reception:
Best of Show: Evelyn Holmstedt of Omaha, Nebraska – "Grab a Bite to Eat," ceramic
Best 2D: Bryce Bliska of Hastings, Nebraska – "Migration," photography
Best 3D: Paul Baker of Highlands Ranch, Colorado – "Nature," ceramics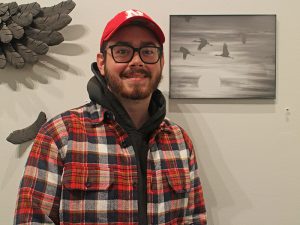 (February 8, 2023) The Hastings College All-Student Art Exhibition is open now through Thursday, February 23 in the Jackson Dinsdale Art Center (700 E. 12th Street). The exhibition is free and open to the public Monday through Friday from 9:00 a.m. to 5:00 p.m.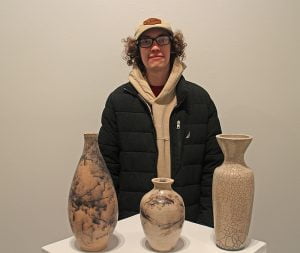 A reception and awards ceremony will be held Thursday, February 9 from 6:00 to 8:00 p.m. in the JDAC.
All students on campus were invited to submit works in a variety of media for the juried annual student show. For this year's exhibition, the judge picked 45 pieces from 27 students to include.
This year's exhibition was judged by Charles Fairbanks, a filmmaker, wrestler and Guggenheim fellow who makes artful documentaries in Mexico, where he lives, and in the United States, where he grew up. His films have screened at Art of the Real, Oberhausen, CPH:DOX, Slamdance, Punto de Vista, Visions du Réel and hundreds of festivals across six continents. Fairbanks founded the Media Arts program at Antioch College and was tenured in 2018. He has also worked as a programmer and translator in Belgium, taught videoarte and cell-phone videography in Mexico, and written for Senses of Cinema, DesistFilm and Millenium Film Journal. His first feature documentary The Modern Jungle (co-directed with Mexican (Zoque) artist Saúl Kak) garnered awards at Slamdance, Athens, and Présence Autochtone, and was selected by multiple critics as one of the top five Latino films of 2016. Originally from Lexington, Nebraska, Fairbanks is back in Nebraska working on a new documentary.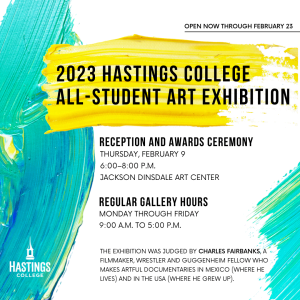 Student works selected for the show include:
Paul Baker of Highlands Ranch, Colorado – "Lightning," ceramics; "Nature," ceramics; and "Great Salt Lake," ceramics
Bryce Bliska of Hastings, Nebraska – "Lunar Fly-by," photography; and "Migration," photography
Anna Bryan of Lincoln, Nebraska – "Skulls," oil on canvas; and "Face," oil on canvas
Alyssa Caskey of Council Bluffs, Iowa – "All Eyes," watercolor
Cassidy Coalson of Mitchell, Nebraska – "Nature's Maternal," oil on canvas
Ansley Connolly of Gretna, Nebraska – "Shell Teapot," ceramic
Josie Cooley of Council Bluffs, Iowa – "Do You Feel Anything Different," ink
Kenedie Dailey of Highlands Ranch, Colorado – "Mile High," silkscreen; and "Hands," oil on canvas
Tristin Duff of Albuquerque, New Mexico – "Body," glass
Savanah Ellis of Arapahoe, Nebraska – "Blue Jay," ceramic; "Ballet," charcoal
Aleah Heikkinen of Lawrence, Nebraska – "Couch Days," oil on canvas
Justin Martin of Los Alamos, New Mexico – "Clash of Titans," painted 3D miniatures; "4 ¾ Inches Tall," glass; and "Eclipse," glass
Rhys Maxey of Gill, Colorado – "Emerald Nova," glass; and "Deep Ocean," glass
Melinda Montoya of Hampton, Nebraska – "Portrait of a Man," digital print; and "Hand Gestures," ceramic
Vaughn Harper-Marcel of Omaha, Nebraska – "Mannequin Still Life," oil on canvas
Evelyn Holmstedt of Omaha, Nebraska – "Glutton," ceramic; "Meat Pie," ceramic; and "Grab a Bite to Eat," ceramic
Brooke Jorgenson of Orleans, Nebraska – "Skull and Pear," oil on canvas
Alexis Linnebach of Olathe, Kansas – "Enchanted Hideaway," ceramic; and "INVASIVE," ceramic
Stephanie Mlynarik of Fort Calhoun, Nebraska – "Untitled," oil on canvas
Teeya Olson of Papillion, Nebraska – "Fallen," ceramic; and "Seraph," digital
Allison Peyton of Fremont, Nebraska – "The Dead of Night," acrylic; "One More Try," etching print; and "The Wanted Crook," pencil
Sasha Richards of Hastings, Nebraska – "Stargazing," oil on canvas
Ally Stratton of Elkhorn, Nebraska – "Rotate," wood
Matt Urbanski of Omaha, Nebraska – "Sponge," ceramic
Sydnie Waldron of Alliance, Nebraska – "Precious Stones," silkscreen
Rea Weidemann of Fremont, Nebraska – "Untitled," oil on canvas; and "Untitled," oil on canvas
Venn Wood of Lincoln, Nebraska –  "Across the Lake," watercolor and graphite; and "Peppered Moth," digital