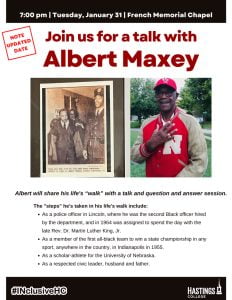 Albert Maxey of Lincoln, Nebraska, will share his life's "walk" with a talk and question and answer session on Tuesday, January 31, beginning at 7:00 p.m. in French Memorial Chapel. Maxey will inspire attendees with the many steps he's taken, including:
As an officer for 34 years with the Lincoln Police Department. He was the second Black officer hired by the department, and in 1964 was assigned to spend the day with the late Rev. Dr. Martin Luther King, Jr. during a speaking visit to Pershing Auditorium.
As a member of the famed Crispus Attucks High School team in Indianapolis, Indiana, that made history in 1955 and became the first all-black team to win a state championship in any sport, anywhere in the country.
As a scholar-athlete for the University of Nebraska, where he played basketball.
As a respected civic leader, husband and father.
Maxey is also an artist, and has select pieces available for viewing on weekdays, from 11:00 a.m. to 3:00 p.m., in the lobby of Scott Studio Theater, now through January 31. Then on January 31, the space will open at 5:00 p.m., and a reception with Maxey will begin at 5:30 p.m.
Note: This event was originally scheduled for January 18 but was postponed due to weather.
Hastings College is a four-year residential college that focuses on student academic and extracurricular achievement. Hastings' student-centered initiatives include providing all required textbooks and an iPad, while a block-style semester schedule allows professors and students to focus on fewer classes at a time. Discover more at hastings.edu.