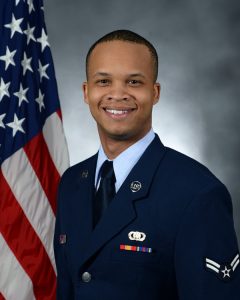 Mario Powell, a 2013 Hastings College graduate, is returning to the French Memorial Chapel stage for a performance with a United States Air Force Heartland of America Band ensemble. The band, Raptor, will perform a concert that's free and open to the public on Wednesday, February 12 at 7:00 p.m.
These active duty bandsmen perform high energy music from a variety of genres, from rock and roll classics to the chart-topping hits of today, showcasing the Air Force's excellence, precision and innovation in every performance. They are committed to inspiring the public and honoring veterans through the power of music.
Powell is the band's vocalist. The Colorado Springs, Colorado, native earned a Bachelor of Arts in Music at Hastings College and was part of the Hastings College choir and band, and was active across campus. He was named a Who's Who, an honor given to seniors who have made outstanding campus contributions during their college careers.
Before committing to the Air Force in 2018, Powell served as a director of music at Emmanuel Missionary Baptist Church in Colorado Springs. Powell has won numerous music  competitions such as the Colorado Springs Omega Showboat, Colorado Springs National Anthem contest and the winner of Sky Sox Idol. He also has a single called "Sometimes" that he wrote and recorded.

In addition to enhancing community relations and supporting the USAF recruiting mission, Raptor deploys to support service members and collaborate with embassies, sharing American culture while building lasting international partnerships. No matter the venue, these talented Airmen musicians proudly represent the more than 660,000 Air Force professionals around the world.
The United States Air Force Heartland of America Band is a professional organization that presents exciting and uplifting musical programs to inspire patriotism, connect communities with their military and honor veterans.
Hastings College is Nebraska's premier private college. A four-year residential college that focuses on student academic and extracurricular achievement, Hastings' student-centered initiatives include providing books, an iPad Pro and a two-week study abroad experience at no additional cost. A block-style semester schedule allows professors and students to focus on fewer classes at a time and promotes hands-on experiences. Discover more at hastings.edu.