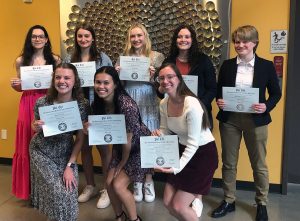 The Hastings College chapter of Psi Chi, the psychology  academic honor society, inducted 14 students during its recent spring ceremony on April 2.
This year's Psi Chi inductees include:
Mackenzie Berns, a junior from Fairbury, Nebraska
Tiena Chu, a sophomore from Cheyenne, Wyoming
Andrea Hornung, a junior from Stratton, Colorado
Daelene Hinrichs, a junior from Glenvil, Nebraska
Laura Hyde, a sophomore from Omaha, Nebraska
Riley Lanning, a sophomore from Glendale, Arizona
Elizabeth Mills, a senior from Omaha, Nebraska
Jillian Rants, a junior from Grimes, Iowa
Sasha Richards, a junior from Hastings, Nebraska
Emma Severson, a junior from Hickman, Nebraska
Ally Stratton, a junior from Omaha, Nebraska
Natalia Dick, a senior from York, Nebraska
Claire Hubbard, a senior from Highlands Ranch, Colorado
Madison Grove, junior from Sioux Falls, South Dakota
The purpose of Psi Chi is to recognize and promote excellence in the science and application of psychology. Students who are a psychology major or minor and who have a strong academic record are invited to join. Members are eligible for scholarships, professional development, leadership positions and opportunities to publish and present research.
Psi Chi was established in 1929 and remains the single largest psychological association in the world with over 1,100 active chapters across the globe. The Hastings College chapter of Psi Chi was established in 1982 under the leadership of Dr. Chuck Eigenburg and Dr. Robert Shalock, and celebrated its 40th anniversary this past December.