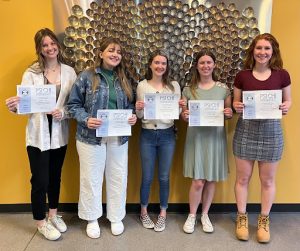 The Hastings College chapter of Psi Chi, the psychology  academic honor society, inducted 10 students during its recent spring induction service.
This year's Psi Chi inductees include:
Emma Albers, a senior from Hastings, Nebraska.
Jose Acevedo, a senior from Grand Island, Nebraska.
Elizabeth Baade, a sophomore from Highlands Ranch, Colorado.
Ian Bauer, a senior from Kearney, Nebraska.
Caitlin Birk, a junior from Bennington, Nebraska
Hali Hansen, a senior from Council Bluffs, Iowa.
Rachel Ney, a senior from Golden, Colorado.
Hannah Theisen, a senior from Hastings, Nebraska.
Jenna Tiemeyer, a senior from Fairfield, Nebraska.
Mickayla VanNatter, a junior from Guernsey, Wyoming.
The purpose of Psi Chi is to recognize and promote excellence in the science and application of psychology. Students who are a psychology major or minor and who have a strong academic record are invited to join.  Members are eligible for scholarships, professional development, leadership positions, and opportunities to publish and present research.
Hastings College students involved with Psi Chi this past year helped host activities on campus and volunteered with Food4Thought, a local non-profit food assistance program for elementary students.
Psi Chi was established in 1929 and remains the single largest psychological association in the world with more than 1,100 active chapters across the globe. The Hastings College chapter of Psi Chi was established in 1982 under the leadership of Dr. Chuck Eigenburg and Dr. Robert Shalock, and will celebrate its 40th anniversary this fall.
Hastings College is a four-year residential college that focuses on student academic and extracurricular achievement. Hastings' student-centered initiatives include providing books, an iPad and a two-week study away experience at no additional cost. A block-style semester schedule allows professors and students to focus on fewer classes at a time and promotes hands-on experiences. Discover more at hastings.edu.