The Hastings College chapter of Alpha Chi, the collegiate all-discipline academic honor society, inducted six students earlier this month.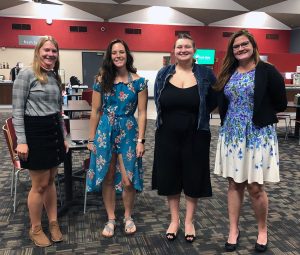 Alpha Chi promotes academic excellence and exemplary character among students and honors those who achieve such distinction. Students must place in the top 10 percent of their class from all academic disciplines to be considered for Alpha Chi.
Students involved with Alpha Chi help host activities on campus, including Academic Showcase, which is part of the College's annual Celebration of Excellence.
This year's Alpha Chi inductees are listed below.
Tiersa Darley, a senior special education major from Scottsbluff, Nebraska.
Emma Downing, a sophomore history and sociology double major from Colorado Springs, Colorado.
Brianna King, a sophomore Spanish and biology double major from Westminster, Colorado.
Briana Meyer, a junior elementary education major from Hastings, Nebraska.
Grace Sinsel, a sophomore English secondary education major from York, Nebraska.
Marlee Taylor, a sophomore finance and business administration major from Thedford, Nebraska.
Hastings College is Nebraska's premier private college. A four-year residential college that focuses on student academic and extracurricular achievement, Hastings' student-centered initiatives include providing books, an iPad and a two-week study away experience at no additional cost. A block-style semester schedule allows professors and students to focus on fewer classes at a time and promotes hands-on experiences. Discover more at hastings.edu.