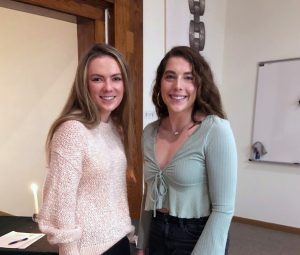 The Hastings College chapter of Alpha Chi, the all-discipline collegiate academic honor society, inducted four students during its recent spring induction service.
This year's Alpha Chi inductees include:
Jordyn Duffy, a sophomore from Colorado Springs, Colorado, who is majoring in biochemistry.
Landry Hinkson, a sophomore from Bazaar, Kansas, who is majoring in communications studies.
Rachel Hinrichs, a junior from Glenvil, Nebraska, who is a double major in marketing and communications studies.
Matt Urbanski, a junior from Omaha, Nebraska, who is majoring in wildlife biology
The purpose of Alpha Chi is to promote academic excellence and exemplary character among college and university students and to honor those who achieve such distinction. Students from across all academic disciplines who are in the top 10 percent of their class are invited to join.
Hastings College students involved with Alpha Chi help host activities on campus, including Academic Showcase, which is part of the College's annual Celebration of Excellence. Hastings College is celebrating excellence with Academic Showcase and Honors Convocation on Wednesday, April 27, this year.
The Hastings College chapter was established in 1949 by Frank Weyer and Ruth Harris. Weyer was dean of the College at the time and Harris was the librarian.
Hastings College is a four-year residential college that focuses on student academic and extracurricular achievement. Hastings' student-centered initiatives include providing books, an iPad and a two-week study away experience at no additional cost. A block-style semester schedule allows professors and students to focus on fewer classes at a time and promotes hands-on experiences. Discover more at hastings.edu.