The 2016 inductees into the Hastings College Pro Rege Society include J.T. "Tim" Daugherty '70, of Omaha, Nebraska; Lyle Fleharty of Hastings, Nebraska; and William Nottage-Tacey of Hastings, Nebraska. The dinner and induction ceremony, during which Hastings College recognized the individuals for their longstanding dedication to the College, was held Lochland Country Club in Hastings on Thursday, April 21.
Membership in the Pro Rege Society is the highest non-academic recognition Hastings College bestows. Criteria for selection may include, but is not limited to, extraordinary service to Hastings College, significant philanthropic contributions and/or unusual commitment to the College over an extended period of time.
Abbreviated citations for all three honorees are below. Full citations are available online.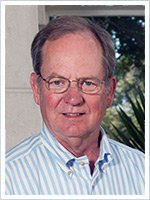 Tim Daugherty '70  has put both the economics and business administration degree he earned and the service values he learned at Hastings College to good use. In 1995, he was elected to the Hastings College Board of Trustees and served as an active, thoughtful member on the Investment, Budget and Finance/Audit Committee, Executive Committee and Committee on Trustees. From 1998 to 2016, he served as Chair of the Hastings College Foundation Board of Directors. He was National Alumni Chair for the Building on Tradition for the 21st Century fundraising campaign, has given generously in funds and leadership to various campus projects, and serves an ambassadorial role in Omaha for the College.
After graduating from Hastings in 1970, Daugherty founded Valley Products Corporation in Valley, Nebraska. What began as a custom manufacturing firm for grounds maintenance equipment and irrigation components expanded into electronic data receivers for satellite-delivered agricultural and financial market information. In 2008, he left Valley Products Corporation as President to start a second career as Executive Director of the Robert B. Daugherty Charitable Foundation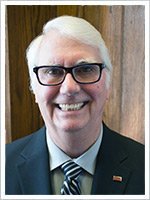 Upon graduation from high school, Lyle Fleharty became an HVAC technician until enlisting in the U.S. Army in 1966. He returned to Hastings in 1969 having served three years. Lyle joined the College staff as HVAC technician in 1989 and, in 1991, became Director of Physical Plant Services. In that capacity, he oversaw all projects and staff for Maintenance, Custodial Services, Grounds and Security.
When first elected to the Board of Trustees in 1995 and then as chair of the Building and Grounds Committee, his familiarity with the buildings, HVAC systems, project management, landscaping and personnel proved invaluable. Thanks to Lyle's expertise, the campus is more functional, better prepared for the future and more beautiful than before he became active with the College. From leading Physical Plant Services to engaging as a Trustee, Lyle has applied a common sense approach to improving the Hastings College campus and equipping students for long-term success.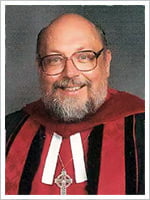 Extracting lessons from his childhood in Osmond, Nebraska; his love for English, history and Christ; and a life well-lived as an ordained Presbyterian minister, the Reverend William Nottage-Tacey '72 is a guiding light to the Hastings College community. He is a child of God who loves words and action, encouraging us to light the spiritual candles within us and share them with the world.
Reverend Bill, as he is affectionately and almost universally known, was first elected a member of the Board of Trustees in 1999. In the role, he has sought to honor the College's Presbyterian heritage while simultaneously encouraging the 21st century academic community to engage in the Christian faith. He has actively participated in campus, attending events, serving as a historic reenactor and acting in a Theatre Department production.
In 2004, Nottage-Tacey took a call to the First Presbyterian Church in Hastings as Senior Pastor and Head of Staff for more than a decade. A fourth generation Nebraskan, he graduated from Hastings College in 1972, earning the College's highest non-academic student honor, the Bronco Award. Having experienced a call to the ministry while reading the Bible in Bronc Hall, he earned a Master of Divinity degree, magna cum laude, from San Francisco Theological Seminary and a Doctor of Ministry degree from Trinity Theological Seminary.
Hastings College is a private, four-year institution located in Hastings, Nebraska, that focuses on student academic and extracurricular achievement. With 64 majors and 15 pre-professional programs, Hastings College has been named among "Great Schools, Great Prices" by U.S. News & World Report, a "Best in the Midwest" by The Princeton Review and a "Best Bang for the Buck" school by Washington Monthly. For more, go to hastings.edu.