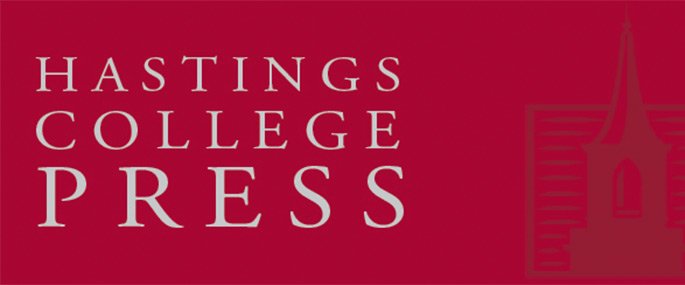 Welcome to the Hastings College Press!
All titles for Hastings College Press are produced by students in classes and internships at Hastings College Press. Students have the opportunity to learn about all stages of book publishing, from acquisitions to binding and distribution.
Our mission is to encourage regional study in the United States while providing training and professional internship opportunities for Hastings College students who are interested in publishing as a profession.
---
Student Opportunities
PUB 234 Book Production
Want to see what this publishing thing is all about? Try our J-Term class PUB 234 Book Production, which is offered every year and is a great introduction to publishing. In this course, you'll learn the fundamental skills of typesetting, page layout and proofreading. You'll also have the opportunity to work with Bertie, our trusty book-binding machine.
Publishing Program
Hastings College offers both a major and a minor in Publishing. The program combines courses in technical skills (such as editing and typesetting) and written communication. See the Publishing webpage for a full description of the program.
Internships
Interested in an internship with HC Press? Interns assist the director in answering daily queries about the press and managing inventory but also have the opportunity to customize their internship experience. Students may focus on copy editing, book design, cover design and marketing. For more, contact the director using the information below.
Questions?
For information on the Hastings College Press, contact the director, Dr. Patricia Oman, at hcpress@hastings.edu.