Center for Applied Media Arts
The Hastings College Center for Applied Media Arts offers a wide variety of opportunities for students — including livestreaming athletic, music and special events; graphic and web design; social media; photography; and producing the campus newspaper.
This is a great opportunity to participate in something you enjoy, and hone your skills for a successful career in virtually any discipline. Through the Center, you'll experiment, innovate and add professional-quality work to your portfolio, and do so while earning a scholarship that helps pay for your education!
Building your skills
The Center for Applied Media Arts includes students from a variety of majors across campus — anyone who is interested in:
Livestreaming / broadcasting
Audio production
Graphic design
Announcing athletic and other events
Media/Journalism
Motion Graphics
Video production
Social media
Print production
Web design and site management
And more!
All of these opportunities happen right on campus, through streaming athletic, music and other special events, including graduation; managing The Collegian, our college newspaper; producing podcasts; producing Bronco News Now, our video news service; managing social media accounts; and maintaining multiple websites, and video channels.
Championship experience
The Hastings College Center for Applied Media Arts also has the exclusive contract to produce and stream the NAIA Division II Women's Basketball Tournament in Sioux City, Iowa, every year. This includes producing the semi-finals and championship game carried by ESPN3.
As part of the coverage, students setup and operate cameras, produce the livestream and announce games — and perform the thousand other things necessary to make it happen. It's an annual highlight and amazing experience!
Professional results
Students involved in the Center for Applied Media Arts have the opportunity to tackle a wide-variety of media experiences. It gives you the chance to grow and get better — and gain confidence in your abilities. The result? A professional-quality portfolio of work that'll wow potential employers and graduate schools.
Our quality reputation in the area also means businesses and and non-profits often ask for students looking for an internship, or even work the Center to have students take on special projects.
At every step in your path you'll appreciate the stepping stones of teaching, counseling, inspiring, supporting and guiding from our engaged faculty and staff. It's an experience that's true to Hastings College and you won't find it anywhere else.
See your future at Hastings
See for yourself how we personalize your education to your talents and your goals.
Schedule a visit
 and we'll demonstrate how Hastings will inspire you to reach your potential.
Applied Media Arts Scholarships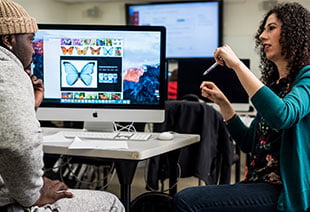 The Center for Applied Media Arts offers scholarships to participating students.
We offer scholarships in:
Media
Graphic Design
Livestreaming / Broadcasting
Photography 
Website Design
Click the button below to let us know you're interested in a media scholarship!
Scholarship Timeline
While we accept scholarship applications year round, for best consideration, we recommend you:
Complete your admissions application by February 15, and
Meet talent scholarship requirements, such as an interview, by March 15.