In 2019, Hastings College graduate Chelsey Morten '16/MAT '18 submitted an idea to Big Idea Hastings. Big Idea is modeled after the show "Shark Tank," and Morten built a pitch for Lemon & Co. Juicery, a cold-pressed juicery and wellness bar.
While Morten, who was an assistant coach for the College's women's basketball team at the time, developed the pitch and plan, she was out of town coaching on Big Idea pitch night — so her partner, Brett Wells '14/MAT '16, Hastings College director of human performance, made the pitch on her behalf.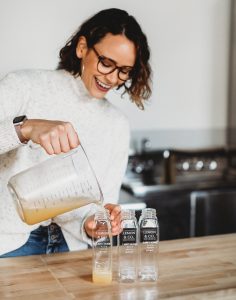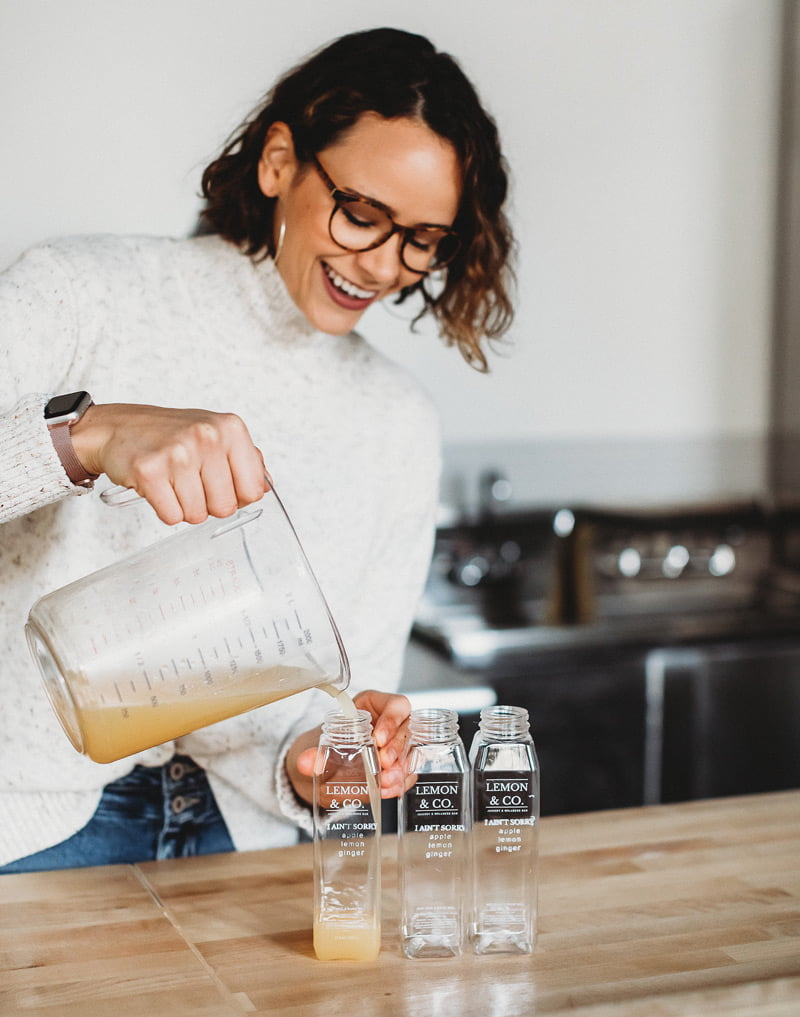 The result? Lemon & Co. won the event, giving Morten a $1,000 prize and a jump-start on the juicery, which creates hand-crafted juices made from fruits, vegetables and herbs. Morten opened her doors in downtown Hastings in October.
"Health and wellness have always been a huge part of who I am," she said, adding that she's always been known as the "healthy friend," so opening up a juicery is not a big stretch for her.
When Morten graduated in 2016 with an elementary education and K-12 special education degree, she decided to earn a MAT in ESL and early childhood development. During the first year in the program, she worked as a grad assistant for the Broncos, then took up the assistant coaching position the second year.
When starting her grad assistantship, Morten started struggling with digestive issues and was not feeling like herself. "I had to see specialists and live off of medications, but I was still miserable," she said.
To try to figure out how to feel better, Morten did some research and learned more about juicing. She gave it a try — and it was one of the only remedies that gave her relief. She said she'd never advertise it as a fix-all, but it helped her tremendously, and she finds the process of juicing therapeutic.
"I've always loved being in the kitchen and think food is amazing and juicing allows me to do that and be creative," she said.
The juices she makes have varying flavors made with apples, beets, carrots, lemon and even watermelon. Morten's favorite drink is Beets of Burden with beet, pineapple, carrot, celery and lemon.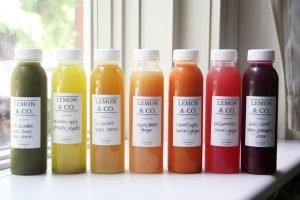 Before COVID-19 hit, Morten planned on opening her doors in late May or early June to have the summer to learn new things and become more confident in her business. Her original plan was to hire some people and continue her coaching position.
COVID caused her to delay opening her doors, so instead, Morten enlisted several businesses around town, including Prairie Loft, Art Bar, Avani and First Street Brewery, to sell her products in their stores. This allowed her to get her product out to customers before officially opening.
Sales went so well in this way, that she became consumed with the orders, and in July decided the juicery would have to be a full-time gig.
"I have always been the type of person to dive into things head first," she said. "Because I worked so hard this summer because I couldn't open the doors at the time, I knew that when I did, I'd be too busy to continue basketball."
When opening her store, Morten was second-guessing herself and believed she needed more credentials to succeed. She said she reminded herself that she has the skills she needs to be successful and has had many experiences to help her do so.
"My experiences of working on a team and working with people has helped me open a business," she said. "When I worked at Hastings College, I recruited basketball players, and selling my business is a lot like selling the College."
By Courtney Hanson, a senior from Brookings, South Dakota, majoring in communication studies and philosophy and religion.