A Hastings College education collaborative partnerships course dived into the Hastings community and Hasting Public Schools this year, encouraging fun, at-home ways of learning for elementary students and their parents.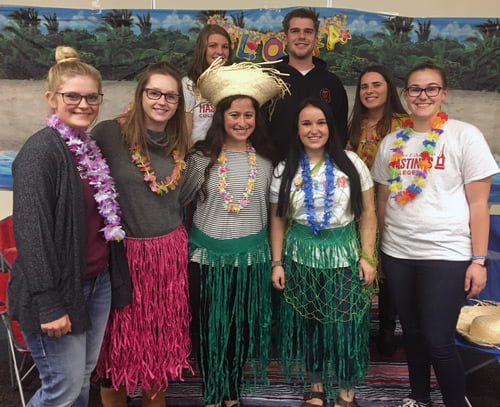 As part of the class, college students hosted Literacy Luau, a fun event where elementary students and their parents were able to engage in math and reading practices by rotating through eight stations.
After each station, parents received handouts that guided them in how to use the skills in their own homes. Participants wore leis, earned snacks and were able to take home cards and books to encourage at-home practice along with the skilled-handouts. A Literacy Luau was held at each of the five Hastings elementary schools, with 80-100 students plus parents participating at each school.
"We thought it would be beneficial for elementary students if Hastings College education students could meet with instructional facilitators at each school, and come up with a way to have math and reading literacy nights that involve parents,"  said Ann Auten, a Hastings College teacher education professor. "These events include parents and who work with their kids in math and reading areas by playing the games we teach them. Then we send home how-to handouts, as well."
Hastings College seniors that are a part of the collaborative partnerships class put on the event with the help of junior education majors. Along with planning, students worked with the instructional facilitators from each elementary school to make the event successful which encouraged college students to learn more collaborative skills as well.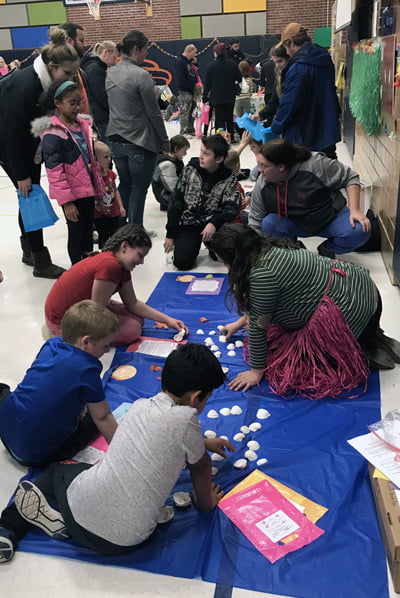 "This event is a great way for college students to get more involved with elementary schools and the community, and for elementary students to collaborate with parents and participate in the activities," Auten said.
In order to host the events in different schools, Hastings College students received a service learning grant from Hastings College and also provided childcare at First St. Paul's Lutheran Church. Students used this money to sponsor each literacy night and donated $100 to each school for food to support the event.
The Hastings College Education Department is already thinking ahead to next year's luau for schools outside the Hastings area, and this year's junior education majors, having watched and help run the event, will take it on as leaders and coordinators.
"Our goal is to be a part of the community while doing service learning, and these literacy nights meets that service learning component," Auten said. "Graduating students can do this someday in their own schools and I've even heard that alumni have sponsored literacy nights in their schools. It's great to see that success begins here on campus."
By Dany Cook, a senior from Fairfield, California, majoring in journalism and broadcasting.