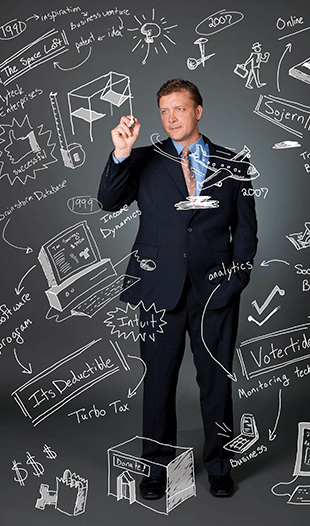 As a student at Hastings College, Gordon Whitten '93 paid his own way through school. One of his first inspirations for a business venture occurred in his Hastings College dorm room. He created an adjustable steel frame loft system for elevating beds. Gordon patented his idea for The Space Loft as a sophomore and formed Mytech Enterprises to market it.
Although The Space Loft was a successful venture, the Harvard, Neb., native actually launched his first business several years before.
"Growing up, my parents had a lawn business. Later, I had a carpet cleaning business," Gordon said. "The dorm loft system was more on the right track. From there I did a consulting business and that led to a software business."
Gordon and his partners in Income Dynamics, Inc., created a database of tax-deductible values of items that people give to charity every year and built a software program that would calculate those values. ItsDeductible was launched in 2000.
In 2003, software giant Intuit acquired ItsDeductible and included it in Turbo Tax, a software program used by about 8 million people annually.
After working for Intuit for four years, Gordon launched Sojern, an online travel advertising business that provides destination-specific content on airline boarding passes, in 2007.
He increased Sojern's revenue to almost $10 million by the time he brought in Yahoo!'s Mark Rabe four years later to assume his responsibilities.
In 2011, he helped launch VoterTide, a social media analytics and monitoring company, and in 2012, he founded I See It Ventures, a business development company.
Gordon and his wife, Dr. Karry (Hegwood) Whitten '94, married while attending Hastings College together. They were co-directors of Hastings Campus Life, a non-profit Christian program, and were outstanding scholar-athletes. Karry competed in track and cross country, and Gordon earned national recognition as a Bronco running back. Karry is an Omaha dentist. Gordon was elected to the Hastings College Board of Trustees in 2009.