Two Hastings College junior wildlife biology majors devoted their summer to spending time with animals and gaining experience in the field. Ian DeBoer interned for Lincoln's Children's Zoo and Zac Charity interned for Henry Doorly Zoo in Omaha.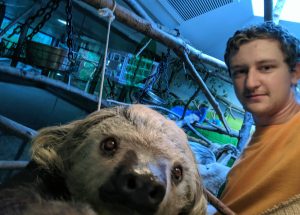 The two were tasked with several cleaning jobs, and while that might seem like a strenuous task, when they cleaned, they spent time with the animals. DeBoer said he enjoyed cleaning because he valued his time spent with the animals.
Deboer's favorite moment at the zoo happened while working with the bush babies. When he started, his coworkers told him the male bush baby will likely come hang out with him while he cleaned the exhibit. The first few times he cleaned, he assumed the bush baby that latched onto him was the male. It wasn't until his coworker was watching him one day when he realized it was the female.
"It was a special moment because everyone had said that the female bush baby hadn't connected with a keeper in a long time, so I thought that was a unique experience," he said.
When deciding on a summer internship, DeBoer, of Bennington, Nebraska, said he wanted to expand his networking circle outside of his hometown. He volunteered at the Henry Doorly Zoo in high school and knew people there already. As an aspiring zookeeper, he wanted to make sure he got his name out there and decided on the next closest zoo.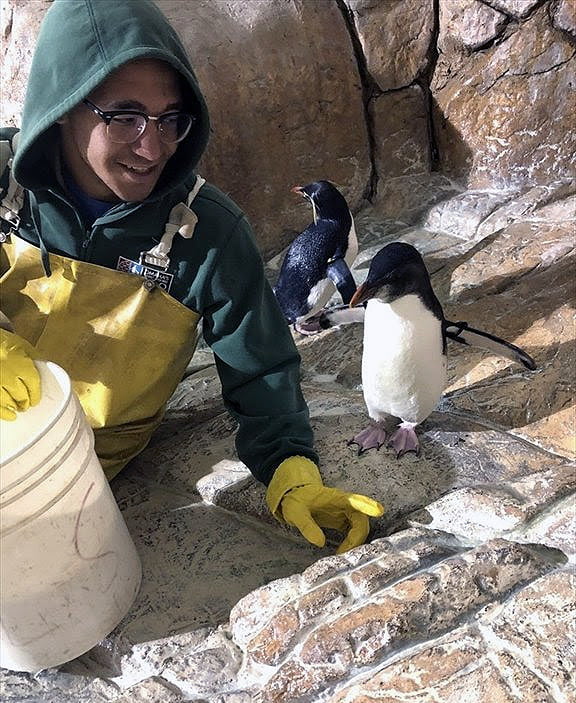 Before his internship, DeBoer said he lacked confidence in his future plans. He was unsure if he wanted to go directly into zoo work or do research in the field. The Lincoln Children's Zoo solidified his career path, however, and equipped him with the knowledge and the connections he will need to go into animal care.
"Connections are the most important thing in animal care, and I now have my name out in Lincoln and Omaha," he said.
While DeBoer worked with several different animals around the zoo, Charity worked primarily with penguins and puffins at the Henry Doorly Zoo.
Dr. William Beachly, professor of biology, encouraged Charity to apply for the internship when Charity mentioned to him he was interested in gaining field experience. Not only did Hastings College help get him connected with his internship, but the college also equipped him with an understanding of the biology of animals.
"Penguins have a weird anatomy, so it was fun to see how their biology plays out in everyday life for them," said Charity, who is from Omaha, Nebraska.
Charity wishes to go into animal prosthetics to give animals prosthetic limbs if they are born without one or endure a catastrophic injury. He said being around animals and learning how they function has helped him learn the skills he will need in the future.
"In animal prosthetics, you have to understand how animals move around in order to give them the best possible prosthetic for them to live fulfilling lives," he said.
While reminiscing over his internship, Charity mentioned that his favorite part about cleaning the penguin exhibit was the rockhopper chicks.
"They're very cute and they bug you a lot because they're so curious, you can't help but love them," he said.
By Courtney Hanson, a junior from Brookings, South Dakota, majoring in communication studies and philosophy and religion.