Tech Studio, which bridges tradition methods of creating art with digital processes of design and fabrication, is an exhibition at the Minden Opera House Gallery featuring work from Hastings College students. The Minden Opera House (322 E. 5th St. in Minden, Nebraska) will host an reception recognizing the work on February 8, at 6:00 p.m. The reception is free and open to the public.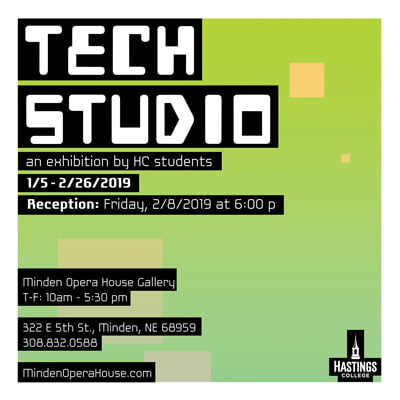 As part of Tech Studio, a course taught by Hastings College art instructor Kevin Mercer, students expound upon hand-drawn, handmade and found materials with 3D printing, laser cutting and scanning technologies. Theoretical, screen-bound shapes and forms are materialized in plastic, wood, paper, paint and more.
The exhibit will be available until February 26 at the Minden Opera House, which is open from 10:00 a.m. to 5:30 p.m. Tuesday thru Friday.
The Hastings College students with work included in the exhibit are listed below:
Holden Banks, a junior from Thornton, Colorado
Zac Charity, a sophomore from Omaha, Nebraska
Nick Clary, a first year student from Saint Robert, Missouri
Wyatt Edeker, a junior from Montrose, Colorado
Joe Jahn, a senior from Columbus, Nebraska
Justin Laut, a sophomore from Fort Collins, Colorado
Dylan Lockling, a first year student from Hastings, Nebraska
Paul Plowcha, a first year student from Papillion, Nebraska
Jakson Stoutamire, a first year student from Sioux Falls, South Dakota
Andrew Winsterman, a sophomore from Central City, Nebraska
Jon Witulski, a first year student from Omaha, Nebraska
Hastings College is a private, four-year institution located in Hastings, Nebraska, that focuses on student academic and extracurricular achievement. Hastings College has been named among "Great Schools, Great Prices" by U.S. News & World Report and a "Best in the Midwest" by The Princeton Review. For more, go to hastings.edu.