Sculptural paintings by artist David Andree are being featured in the Jackson Dinsdale Art Center at Hastings College. Titled "Interface Paintings," the exhibit centers on segmented site-specific paintings that conform their shape to the environment. These painted surfaces record their history through layering.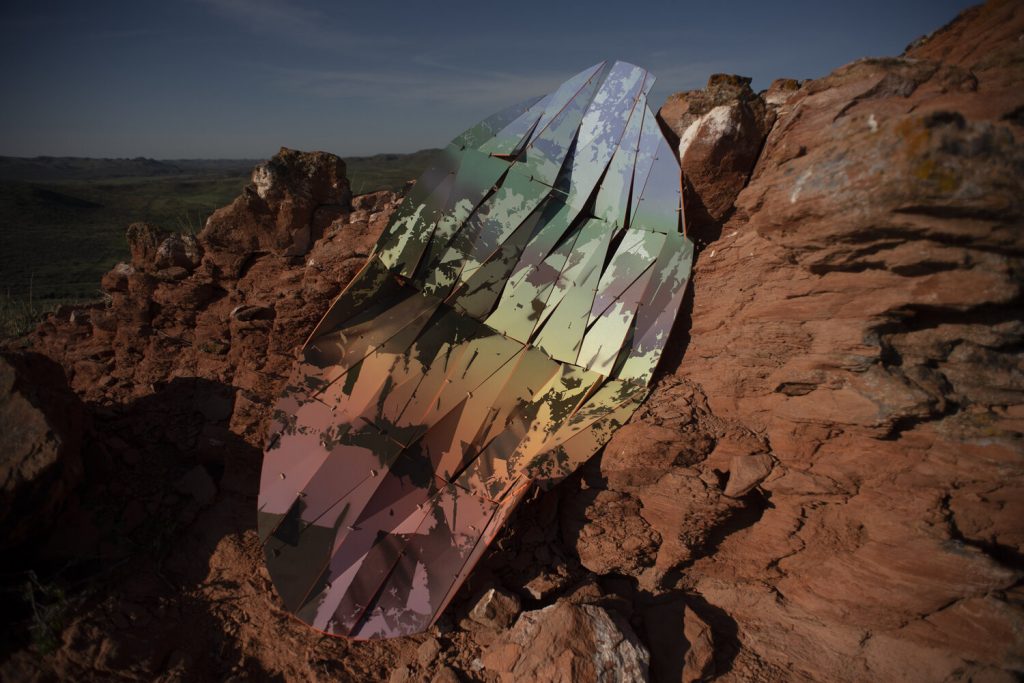 The exhibition is open in the west gallery and will be available through February 23 in the JDAC (700 E. 12th Street). The exhibition is free and open to the public Monday through Friday from 9:00 a.m. to 5:00 p.m. Note that face masks are required inside the JDAC.
"Emerging out of a desire to investigate shifting topography of forms in the landscape, segmented sculptural paintings have been created to interface with undulating surfaces and organic volumes to emphasize these subtle visual events," Andree said in an artist statement. "The segmented sculptural forms responsively shape themselves to the surfaces they are placed upon to highlight their structural qualities in a tactile way visually."
Works featured in "Interface Paintings" are decorated with a collection of relationships of how the object has existed in the landscape, including shadows that fall upon the surface, reflected and adjacent color. As the form is transported to various locations at different times, the surface becomes more layered and eventually takes on a sort of site-specific camouflage.
Andree holds a Master of Fine Arts from the State University of New York and received his Bachelor of Fine Arts from the Minneapolis College of Art and Design. Originally from Minnesota, Andree is an assistant professor of art at the University of Arkansas in Fayetteville.
He has had work exhibited at the Shirley Fiterman Art Center, Gallery MC and BWAC Gallery in New York City; Rochester Contemporary Art Center, Hallwalls, the Big Orbit Gallery, Exhibit-A and the Burchfield Nature and Art Center in upstate New York; The Masur Museum of Art (Monroe, Louisiana); Plains Art Museum (Fargo, North Dakota); Manifest Creative Research Gallery (Cincinnati, Ohio); and numerous venues around Minneapolis, Minnesota.
Hastings College is a four-year residential college that focuses on student academic and extracurricular achievement. Hastings' student-centered initiatives include providing books, an iPad and a two-week study away experience at no additional cost. A block-style semester schedule allows professors and students to focus on fewer classes at a time and promotes hands-on experiences. Discover more at hastings.edu.