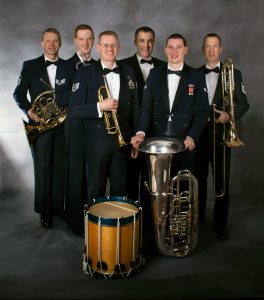 Offutt Brass, the U.S. Air Force Heartland of America Band's brass ensemble, is set to perform at Hastings College on Tuesday, October 18 at 7:00 p.m. The performance, in Perkins Auditorium in the Fuhr Hall of Music (927 N. Ash Avenue, Hastings), is free and open to the public.
Offutt Brass performs as a brass quintet with a percussionist, with a program that features a wide variety of music and celebrates worldwide American musical influence spanning the last 75 years.
The 75-minute performance will feature pieces from famous American composers including John Williams, Leonard Bernstein and Aaron Copland, as well as jazz selections by Duke Ellington and several other patriotic numbers. The concert will end with a special musical salute to past and present military service members.
The United States Air Force Heartland of America Band is a professional organization that presents exciting and uplifting musical programs to inspire patriotism, connect communities with their military, and honor our country's veterans. From public concerts and ceremonial support for military and civic events, to educational outreach and seasonal performances, they aim to create lasting connections with diverse audiences of all ages, while representing the excellence and precision demonstrated daily across our United States Air Force.
Hastings College is a four-year residential college that focuses on student academic and extracurricular achievement. Hastings' student-centered initiatives include providing books, an iPad and a two-week study away experience at no additional cost. A block-style semester schedule allows professors and students to focus on fewer classes at a time and promotes hands-on experiences. Discover more at hastings.edu.