When Ethan Carpenter arrived at Hastings College as an education major with a soccer scholarship, he never envisioned serving as Student Association President. However, when his classroom observations at a local middle school made him reconsider his vocation and injuries ended his soccer career, Ethan looked for new ways to use his skills and energy.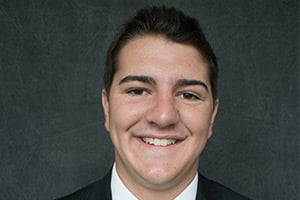 "Soon, I found myself making friends who, through their campus involvement, inspired me to take an active leadership role," said the Lincoln, Nebraska-native who switched his major to business administration. "Now I'm overseeing campus projects and growing personally in ways that will pay off in the business world."
Starting in August 2016, motivated students like Ethan will have expanded opportunities to develop their leadership potential at Hastings College. The Thrive Leadership Program will offer first-year students exclusive opportunities to network with business and community leaders in metropolitan areas, learn to market their leadership experience and use their skills as they design and implement community service projects.
"Skills required in the 21st century workplace may change, but quality leadership will always be in demand. Through the Thrive Leadership Program, Hastings College will equip students to succeed in their chosen field," said Don Jackson '70, President of Hastings College. "The Thrive Leadership Program formalizes many of the mentoring activities Hastings College faculty and staff have provided informally to students. We are excited to provide an intentional leadership development program to students interested in reaching new levels of achievement."
High schools seniors interested in applying to the Thrive Leadership Program must have a minimum 3.0 GPA, demonstrated leadership experience and be accepted to Hastings College.
Students currently attending Hastings College, like Ethan, will play a different role with the Thrive Leadership Program. They will have an opportunity to serve student mentors who provide advice and inspiration – the same kind of inspiration that led Ethan to a key campus leadership position.
For more information about the Thrive Leadership Program and the link to the application, visit hastings.edu/thrive.