Twelve nursing students with ties to Hastings College participated in a Nursing Pinning ceremony at the College's French Memorial Chapel on Thursday, December 13 as part of the Creighton University College of Nursing graduation ceremony. The ceremony is a symbolic welcoming of newly graduated nurses, who are presented with a special pin from faculty and welcomed into the profession.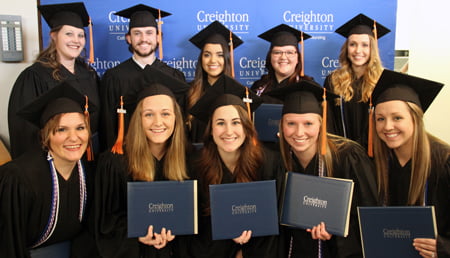 It was the first such ceremony held on campus, as eight of the 12 students were members of the inaugural 3+1 nursing program — a partnership between Hastings College, the Creighton University College of Nursing and Mary Lanning Healthcare.
The 3+1 nursing program allows students to graduate in as few as four years with two degrees: a bachelor's degree from Hastings College in Health Systems, and a  Bachelor of Science in Nursing (BSN) from Creighton. Students spend three years on the Hastings College campus followed by one year in Creighton's Accelerated BSN program on the Mary Lanning Healthcare campus.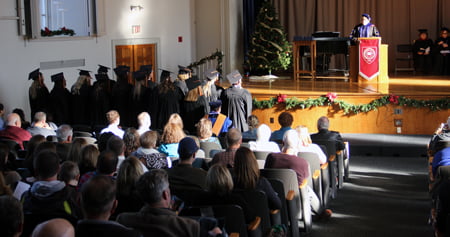 Students become familiar with nursing practice through Creighton's ongoing partnership with Mary Lanning Healthcare campus and its Catholic Health Initiatives (CHI) partners in nearby communities.
During the ceremony, Amanda Grosse of Hastings, Nebraska, was presented with the Academic Achievement Award; and Sara Goodman of Broomfield, Colorado, was named Nursing Student of the Year.
Graduates from the dual degree program are listed below, as are other Hastings College graduates who also graduated from Creighton's Accelerated BSN program.
Dual degree (3+1) graduates
Augustine Clark, Hastings, Nebraska
Amanda Grosse*, Hastings, Nebraska, Magna cum laude
Lexi Hoffman, Doniphan, Nebraska, Cum laude
Baylie Knouse*, Grand Island, Nebraska, Magna cum laude
Alexis Madison, Hastings, Nebraska
Delaney Richardson*, Lee's Summit, Missouri, Cum laude
Sadie Stec, Bassett, Nebraska, graduated in May 2018 from Hastings College
Kylie Stephens, Boise, Idaho
Accelerated BSN graduates
Marissa Avalos, Fort Morgan, Colorado, 2017 Hastings College graduate
Kenzie Choquette, Doniphan, Nebraska, 2002 Hastings College graduate
Tabitha Fox, Hastings, Nebraska, 2007 Hastings College graduate
Sara Goodman*, Broomfield, Colorado, Magna cum laude, 2017 Hastings College graduate
Dual degree recipients received their diploma from Creighton during the ceremony. With the exception of Sadie Stec, who graduated in May 2018, other dual degree recipients will receive their Hastings College diploma during the College's graduation ceremony in May 2019.
*Designates members of Sigma Theta Tau, the international nursing honor society.
Hastings College is a private, four-year institution located in Hastings, Nebraska, that focuses on student academic and extracurricular achievement. Hastings College has been named among "Great Schools, Great Prices" by U.S. News & World Report and a "Best in the Midwest" by The Princeton Review. For more, go to hastings.edu.