Join in on the humorous alphabet adventure in this original play, 'From Z to A: A Jumbled Alphabet Journey'. This year's annual Alpha Psi Omega Production for youth gives each letter in the alphabet a hilarious take through stories, audience participation and music.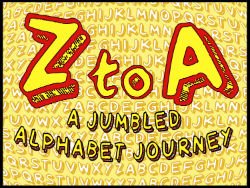 This play was written by the cast during a workshop led by seniors Emma Atuire of Denver, Colorado, and Grace Rempp of Hastings, Nebraska, and is enjoyable for theatre goers of all ages.
This production will run November 30 and December 1 and 2 at 7:00 p.m., and December 2 at 2:00 p.m. at Scott Studio Theatre (806 N. Turner Ave). All Tickets are $5.00 and can be reserved by emailing tickets@hastings.edu.
Hastings College Department of Theatre Arts Presents the annual Alpha Psi Omega production for youth "From Z to A: A Jumbled Alphabet Journey."
PRODUCTION STAFF:
Directors – Emma Atuire of Denver, Colorado, and Grace Rempp of Hastings, Nebraska
Musical Director – Carly Creamers of Columbus, Nebraska
Stage Manager – Sabrina Maxwell of North Richland Hills, Texas
Scenic Designer – Nate Mohlman of Blue Hill, Nebraska
Charge Artist – Cheyenne Knehans of Riverton, Nebraska
Properties –  Alex Rieflin of Doniphan, Nebraska
Sound – Randi Scoggins of Hastings, Nebraska
Costumes – Rebecca Holcomb of Burr Ridge, Illinois
Lighting –  Austin Heinlein of Hutchinson, Kansas
Publicity –  Alyssa Rock of Peyton, Colorado
Box Office​ – Nathanael Sass of Hastings, Nebraska
CAST:
Journey – Janelle Bethea of Glendale, Arizona
Narrator – Greer Anderson of Peyton, Colorado
Principles – Beth Turner of Wood River, Nebraska; Jeff Sokol of Grand Island, Nebraska; Shai Brillon of Land O' Lakes, Florida; Tyler Huntsman of Parker, Colorado
Musicians – Adam Camp of Erie, Colorado; Caylen Hirschman of Norfolk, Nebraska; Danielle Ryan of Aurora, Colorado; Karli Cabrera of Pawnee City, Nebraska; Kiley Logan of Colorado Springs, Colorado; Liz Lee of Colorado Springs, Colorado; Timothy Ellis of Red Cloud, Nebraska
Playwrights/Ensemble – Amelia Amicarella of Littleton, Colorado; Basil Rabayda of Phoenix, Arizona; Dodge Weishaar of Bison, South Dakota; Jerod Fox of Newton, Kansas; Joe Daake of Kearney, Nebraska; Luke Liffengren of Conifer, Colorado; Morgan White of Grand Island, Nebraska.
Hastings College is a private, four-year institution located in Hastings, Nebraska, that focuses on student academic and extracurricular achievement. With more than 60 majors and 15 pre-professional programs, Hastings College has been named among "Great Schools, Great Prices" by U.S. News & World Report and a "Best in the Midwest" by The Princeton Review. For more, go to hastings.edu.