Hastings College, which began providing all required textbooks for students in the fall of 2019, has partnered with Norwalk, Connecticut-based digital course content platform Akademos to increase accessibility of course content and launch an updated online bookstore and Spirit Shop.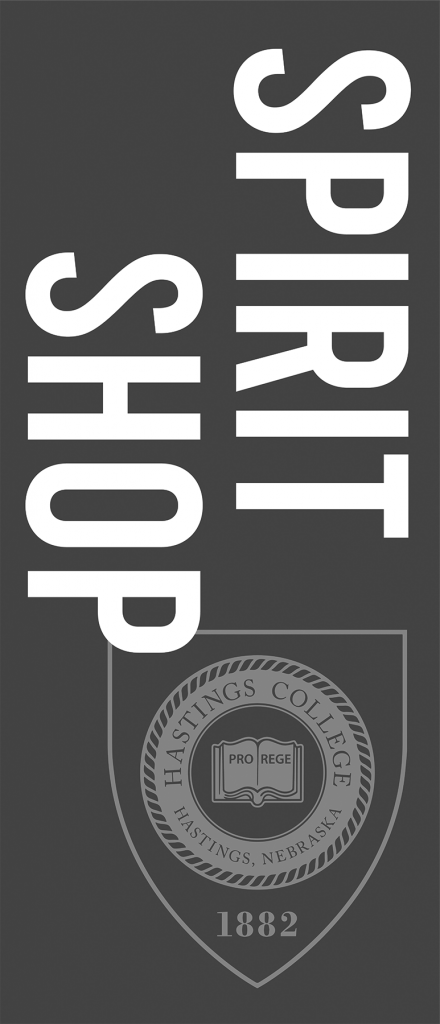 In parallel with the launch this fall, the College closed its on-campus bookstore over the summer and is reopening a Spirit Shop located in Perkins Library and online at hastings.edu/spiritshop. The in-person shop in the library, which is slated to open when students move to campus in mid-August, will have select Hastings College and Broncos wearables and gift items available to purchase, while the online shop will contain more variety and sizing options.
Studio 200, the College's relationship-based academic support center that's open to all students, has relocated to Hazelrigg Student Union where the bookstore had been previously.
"As an innovative college that focuses on student academic achievement, partnering with a course material provider that can support the changing needs of our students is vital to the success of ensuring all students have access to the textbooks and course materials they need on the first day of class," said Dr. Annette Vargas, Hastings College Vice President for Access, Enrollment and Performance. "This idea of day one preparedness is an essential part of our strategy to ensure student success in school and beyond graduation."
According to research compiled by the College Board, the average student spends approximately $1,240 on course materials each year. A survey of more than 22,000 college students also found that the cost of required textbooks had a negative impact on student success, such as earning a poor grade, failing a course, and not registering for a course.
To ensure all students have the books they need and reduce out-of-pocket costs for families, Hastings College launched a program in 2019 to provide students with the physical and digital textbooks and related materials needed to succeed, at no extra charge.
With the integration of Akademos' course content platform, faculty and administrators at the College will benefit from a suite of analytics and tools designed to better track student engagement with course-level content and use data to support student success. Through integration with the college's student accounts and learning management systems, students will have increased convenience and a seamless experience accessing their digital course materials and other helpful resources on their Hastings College provided iPad.
"Through the course of our work, we talk with hundreds of institutions looking for new ways in which to support the overall student experience," said Raj Kaji, CEO of Akademos. "Hastings is one of the growing number of colleges that understand how a comprehensive course materials strategy can benefit student outcomes. We look forward to serving the faculty, staff, and students of Hastings with the best possible experience."
About Akademos
As the premier higher education platform for course content delivery and analytics, Akademos provides colleges and universities industry-leading technology to help create, implement, and manage their course content strategy, along with a full-service online bookstore and available merchandise shop. More than just an online bookstore, we take care of all of the aspects of course content management and delivery so that you can focus on driving student success. We offer students the most convenient access to affordable course materials, give faculty academic freedom and flexibility, all while providing the highest value, institutional alignment, and an unmatched customer experience that helps schools prioritize textbook affordability and student success. Learn more at akademos.com.
Hastings College is a four-year residential college that focuses on student academic and extracurricular achievement. Hastings' student-centered initiatives include providing books, an iPad and a two-week study away experience at no additional cost. A block-style semester schedule allows professors and students to focus on fewer classes at a time and promotes hands-on experiences. Discover more at hastings.edu.