Work by artist Russell Floersch is being featured in the secondary gallery of the Jackson Dinsdale Art Center (JDAC) at Hastings College. The exhibition, titled "Ex Situ," opened today (February 8) and will be available through March 12.
The JDAC gallery, at 700 E. 12th Street, is free and open to the public. Gallery hours are 9:00 a.m. to 5:00 p.m. Monday through Friday. Face masks are required inside the JDAC and the gallery's capacity is limited.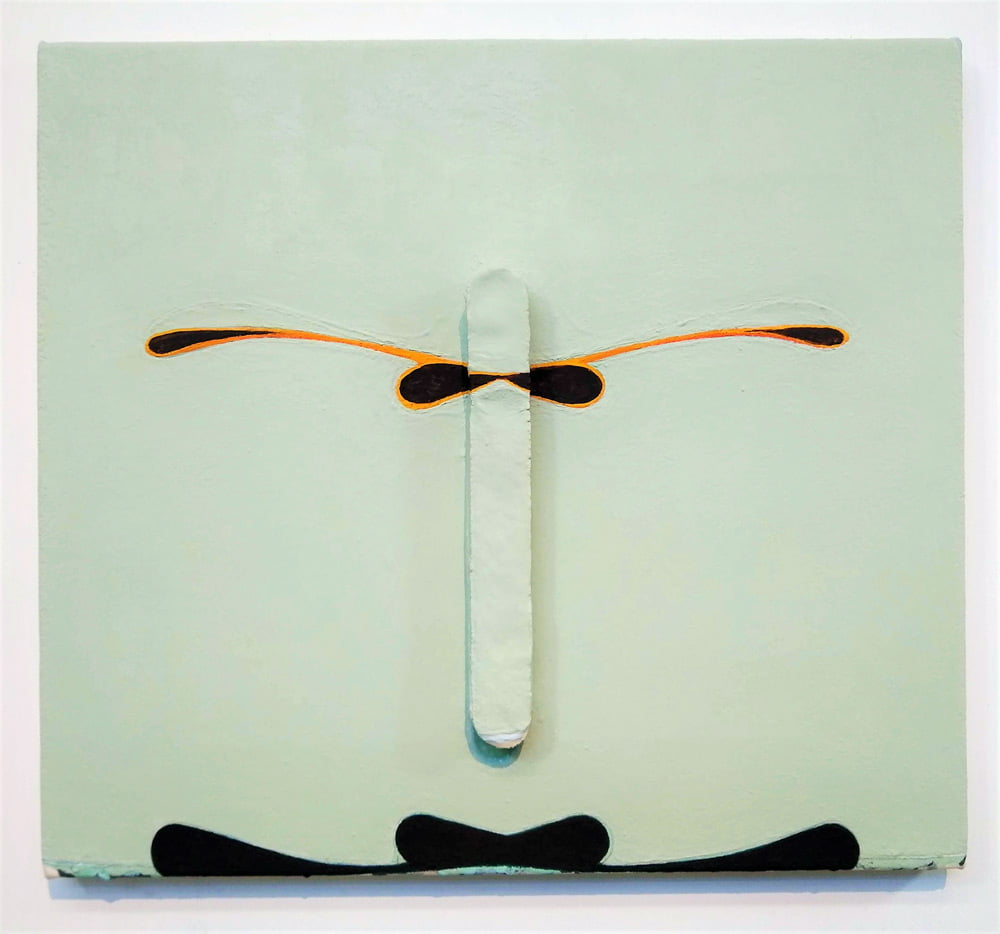 Floersch said place, location and landscape have impacted the materials and process of the paintings within the exhibition. And the title of this exhibition, Ex Situ, reflects a desire to map his ongoing studio process onto the work made here in Hastings, as a way to feel closer to home while away from all that is familiar.
"Painterly incidents are everywhere in our environment and are often overlooked," Floersch said, "created by a tradesperson tasked simply to repaint a wall, protect it or alter its appearance." In this sense he said he wants his studio practice to intersect with a more "everyday" notion of painting, and to honor that labor.
Floersch lives and works in New York, but he is at Hastings College this year as a visiting instructor of painting. He said that being in the JDAC affords him the unique opportunity to work, learn and teach all in the same location.
"Being a visiting artist is a great opportunity to meet new people, experience a new setting and invite the stimulus to affect you and your work," he said. "With the effects of COVID-19, this is entirely different, but to continue making my work allows me to stay connected."
The New York native completed an MFA in Painting from the University at Buffalo. After graduating in1983, Floersch was awarded a Fulbright Fellowship to West Germany where he attended the Universität der Künste (HdK) in West Berlin.
When he returned to the United States, he moved to NYC, and his first one-person show was at Civilian Warfare Gallery in1986. Floersch exhibited for five years at Stux Gallery and later at Rooster Gallery, and 57W57Arts. He has been included in group exhibitions throughout Europe and Japan, and was awarded a NYFA Fellowship in 1996, and the Pollock-Krasner Foundation Grant in 2010.
The exhibition by Michelle Kondrich '04 and Lesley Ash '04, "Telling Stories: Recent Illustrations by Kondrich and Ash," remains in the main gallery through this Friday (February 12).
Hastings College is a four-year residential college that focuses on student academic and extracurricular achievement, Hastings' student-centered initiatives include providing books, an iPad and a two-week study away experience at no additional cost. A block-style semester schedule allows professors and students to focus on fewer classes at a time and promotes hands-on experiences. Discover more at hastings.edu.