With the start of the fall semester, Hastings College and Chartwells Higher Education are partnering to present an all-new dining experience branded Hastings College Dining. The new on-campus dining program will focus on quality food, student engagement, innovation, educational events and, most importantly, will be driven by student feedback.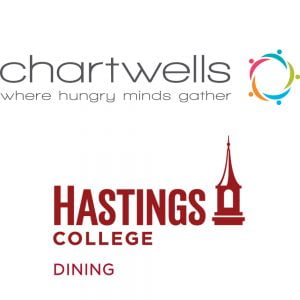 Some highlights of the Hastings College program are meal plans that provide enhanced value for students, commuters, faculty, staff, immersive culinary experiences, and menus by season, cooked from scratch and sourced responsibly.
"Chartwells is passionate about collaboratively developing the Hastings College brand focused on being an inclusive culture that aligns with our guests' lifestyles and dining needs," said Nicole Young, a district marketing manager with Chartwells Higher Education.
In addition to the elevated dining program, many dining locations will undergo an upgrade to the dining experience, refreshed looks and more robust menus resulting in an enhanced dining atmosphere focused on building community through food.
Invigorated and ever evolving catering will be a heavy focus for both on and off campus catering events. Catering guides for students, large scale catering and casual events will be available with customization ranging from full service to low touch drop off catering.
The College, along with Chartwells, will launch a comprehensive new dining website, including menus, nutritional information, feedback channels, hours of operation and updates on upcoming changes. Additionally, Chartwells will introduce a website dedicated to catering showcasing the dynamic catering menus and experts to complement events. For links to Hastings College Dining social media accounts and dining website, go to hastings.edu/dining.
Responsible sourcing and sustainability will be an integral part of Hastings College Dining, Chartwells will implement Waste Not, a plan to track food trimmings, food loss and over-production to better manage and reduce waste and its effect on the environment.
About Chartwells Higher Education Dining Services Chartwells is the recognized leader in contract foodservice management, hospitality and award-winning guest service within 280 college and university dining environments throughout academic institutions across the U.S. Chartwells' brand mantra, "Where Hungry Minds Gather," signifies its commitment to reinventing the dining experience for the next generation of students and beyond. Their nutritious cuisine not only satisfies the unique appetites, lifestyles, and dietary needs of every guest dining on campus, but it also brings people together to promote the high-intensity relationships that will prepare students for the future. For more information, visit ChartwellsHigherEd.com.
Hastings College is a four-year residential college that focuses on student academic and extracurricular achievement. Hastings' student-centered initiatives include providing books, an iPad and a two-week study away experience at no additional cost. A block-style semester schedule allows professors and students to focus on fewer classes at a time and promotes hands-on experiences. Discover more at hastings.edu.