With artistic talent running in her family, Autumn Teff  '20 has always been interested in creating and drawing characters. She said she started drawing at the age of four, and mostly drew cats through middle school, but eventually evolved into drawing and designing human characters that go with a story.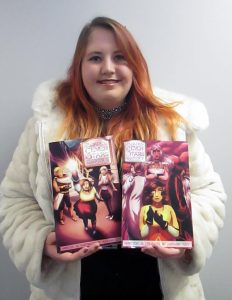 For many years, Teff's dream was to make her own comic book series — so during her time at Hastings College, she did: a graphic novel series called "Pleiades—Seven Stars."
Teff, a native of Fremont, Nebraska, said the series encourages the reader to look into the night sky and search for the star cluster Pleiades. To the naked eye, there seems to be a small group of seven stars all huddled together, which is where characters Asteria, Sorren, Tranquility and several other deities reside. They all live together in the star cluster Pleiades while watching and protecting the known universe.
The deities frequently go to Earth, where they immerse themselves into the culture while keeping their identities a secret. Even so, problems arise, situations must be handled and fights ensue while guiding the universe, thus creating adventures for her stories.
Seeing an opportunity to broaden her world knowledge base, gather research and references for her business project, Teff applied for Dudley-Doerr Funds from the Hastings College Foundation to travel to England and Scotland during the two-week Block 5 of the spring semester — early March 2020.
"One of the primary themes I like to include in my comic is to have the main characters traveling to different areas across the world," she said.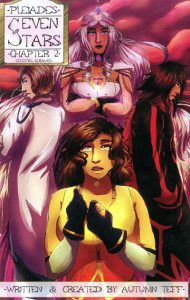 In the summer of 2019, Teff went to Lyon and Paris, France, for an internship. She used her new knowledge base gathered from her internship and travel experience to create accurate and genuine chapters for her Pleiades series. Her England and Scotland experiences were also incorporated into the comic series.
"First-hand research makes the chapter much stronger and more convincing to the reader. Direct observation is much more personal and useful to make the comic believable when compared to other types of research," she said.
Teff, who graduated in May 2020 with a degree in studio art and minors in entrepreneurship, small business management and French, began working on the comic series her sophomore year at Hastings.
"It has grown and evolved since then and now is a stable side job for me. I have a proven market for the product when the next chapter is released," she said.
Teff has published the first two chapters and is working on the third. She said that she can see her artistic skill level improve with each chapter using the skills she learned while at Hastings College.
"This business I have created is my life goal, I have always wanted to create my own series and have people eager to read it," she said. "I thought I would get to that goal after college, but I was fortunate it worked out sooner than expected. This helped boost my career goal for the future and I am fortunate Hastings College gave me these opportunities."
By Joan Primrose, an administrative assistant with the Department of Business and Economics.