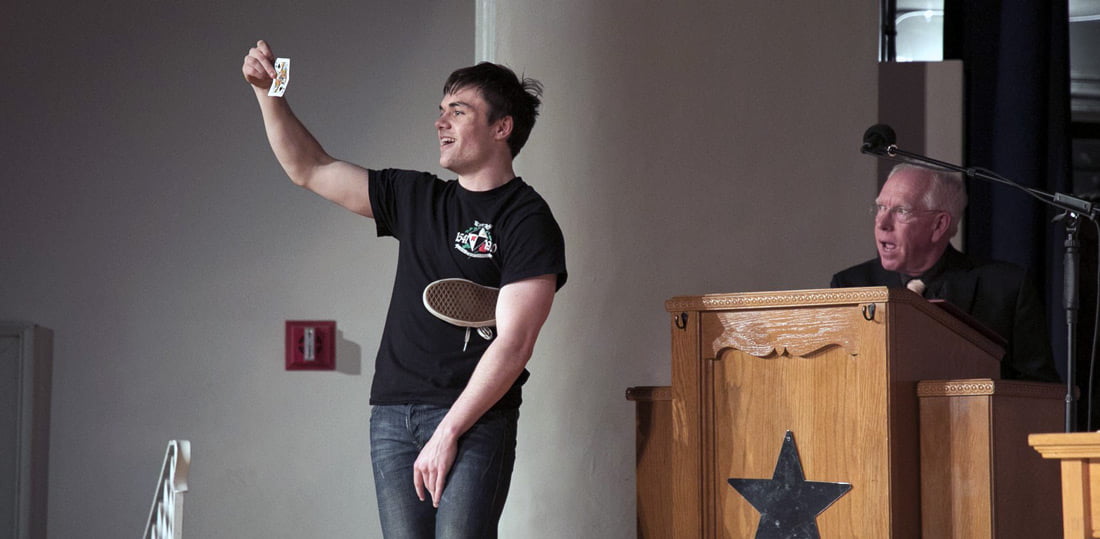 Contrary to the general excitement at the prospect of the school year's end, Kevin Toner, an exchange student from Northern Ireland, wasn't ready to head home May 17. Needless to say, the computer science major who attends Queen's University Belfast (QUB) in Northern Ireland enjoyed his year at Hastings College.
Toner didn't originally plan on spending the year at Hastings College when he chose his top three options from a list of approximately 100 universities; he didn't have time to research colleges to decide his actual preferences and just picked smaller schools where he thought he'd find success. He was assisted in the selection of a school and a part of the British Council's Study USA program.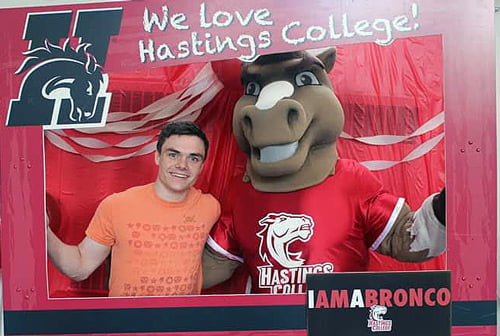 However, once arriving at Hastings College, Toner dove into campus life and took an active role in Eta Phi Lambda, the Student Environmental Action Coalition, the Multicultural Student Union, Model United Nations and the student talent show Mr. and Ms. Bronco competition, which he won and was named Mr. Bronco.
The differences in education and the total college experience became obvious from the beginning when he arrived in mid-August 2018. During registration, picking his own classes was a new concept. In Ireland for the first two years at QUB they don't provide class options. Then the classes themselves provided a new environment. At QUB, with an enrollment of 25,000 students, classes were in lecture halls with at least 100 students. At Hastings, Toner was able to create a more personal relationship with peers, faculty and staff than he ever had at QUB.
"All of my lecturers (professors) know my name and who I am, and that student-teacher relationship is a lot more close here and it's a lot better," Toner said.
According to Toner, instructors at QUB often don't know his name and visiting them during office hours isn't something that happens because the professor-student relationship didn't exist.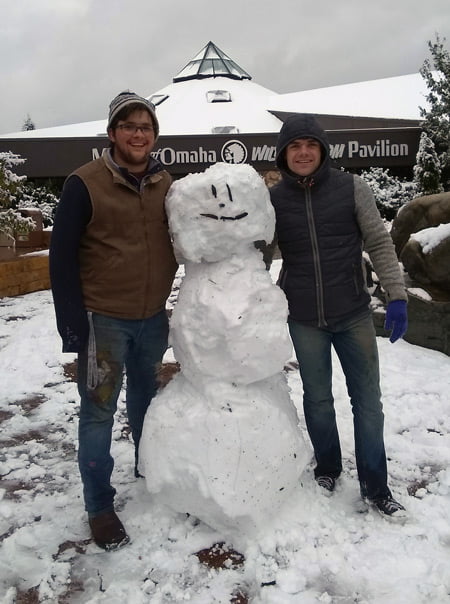 Toner also had more opportunities to get to know people outside of class, whether it was through student groups, events, sports or on-campus interactions. In Belfast, there isn't a dining hall, so Toner ate alone in his own room. He also didn't run into people near as much as he does at Hastings College. The buildings at QUB are spread throughout the city, whereas the Hastings campus is, for the most part, concentrated in one area and allows for run-ins with friends.
Some of Toner's highlights from the school year include the Hastings College Residential Experience Trips to the Henry Doorly Zoo in Omaha, Nebraska, and Mt. Rushmore in South Dakota, along with his part in the theater's production of "A Seussified Christmas Carol." Being a part of the play was initially nerve-wracking as acting was completely new to him, but he said it ended up being a lot of fun as he pushed himself outside his comfort zone.
"There wasn't one class that I didn't enjoy while being here," Toner said. "I enjoyed all of them, even being so different from back home."
Toner said his favorite class was most likely macroeconomics with Dr. Amy Black, professor of economics, and his favorite professor was Elaine Lamski, a French professor, who he took classes with in both the fall and spring.
"She is the only professor that has taught me in both semesters," Toner said. "She is probably the most enthusiastic, the most fun professor that I have. (She) loves poking fun at me and whatnot. I always looked forward to French."
Looking back at the school year, Toner said that there were times of learning about misconceptions between Americans and Irish. Upon his arrival, he believed most Americans were loud, obnoxious and rude, but he said he quickly learned that's not true at all, especially in the Midwest.
Toner also remembers he had to answer questions about if he had seen a leprechaun and why his hair isn't red even though he is Irish. Another misconception that Toner explained was that he doesn't actually know how to speak the Irish language; English is the widely-spoken language in Ireland.
After returning to Belfast, Toner will have at least one more year of classes at QUB before deciding whether to get a masters degree or do internships before entering the workforce.
He hopes to start his own business based off of the classes he has taken at Hastings College and QUB. Toner also said he wants to travel to France now that he has learned some French while in America.
By Caitlin Smith, a sophomore from Brooklyn, Iowa
A version of this story originally appeared in the Collegian.