Since she was a kid, Hastings College sophomore Ashley Schultz made many memories at Walt Disney World in Orlando, Florida. As her family's go-to vacation destination, Schultz grew a special connection to the magic Disney offered — so much so that she wanted to take this dream and make it her reality by seeking out an internship at the theme park.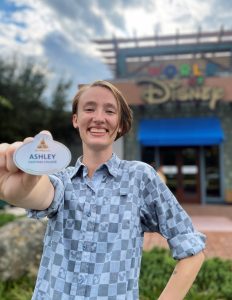 "When I found out about Disney University I knew that was where I would go when I grew up. But for the sake of my parents, I thought I should get my degree somewhere else," said Schultz, who is from Lincoln, Nebraska.
During her first semester at Hastings College, Schultz researched the Disney College Program, and then applied in January 2022. The Disney College Program offers students a combination of on-the-job experience, college coursework and cast member immersion throughout amusement park locations.
"I felt like this was an opportunity for me to get my foot in the door and build a foundation for my resume, not to mention I'd get to work at Disney World," Schultz said.
Hastings College Career Services supported Schultz as she navigated the application process for the Disney College Program. After her online interview, she was offered the internship and relocated to Orlando last July.
"I was so excited to start but had no idea what my job was. They just sent me my move-in date and it was so exciting yet nerve-racking because I have never had an opportunity like this," Schultz said.
Initially, Schultz was trained eight hours daily for six days at the World of Disney store in Disney Springs, which is the largest Disney store in the world. She learned how to effectively work in multiple departments while emphasizing premium customer service skills.
"Although I had many tasks throughout the day that were always changing, organizing the merchandise was my favorite because I love to organize, and making merchandise look presentable for customers is rewarding," Schultz said.
Given the strenuous training hours, Schultz had perks of being a summer employee at the park. "Before some shifts, I would go on some rides just because I could. You can't have these benefits anywhere else," Shultz said.
Schultz said she had a lot of personal growth during her 11 months with Disney. When asked about her extending her internship through her second semester of school, she had no desire to leave after meeting her friends.
"I didn't consider myself to be a very social person, so I was worried about connecting with other interns. This internship has allowed me to get close to cast members making it the best one-of-a-kind experience. I'm still in contact with most of the friends I made during my internship. I'm even planning a road trip to visit them again," Schultz said.
Schultz is returning to Hastings College this fall with an eye on a degree in business, but Disney continues to call…so she may head back to Orlando for an internship in the future.
By Cecilia Velarde, a junior marketing and communication studies double major from Loveland, Colorado