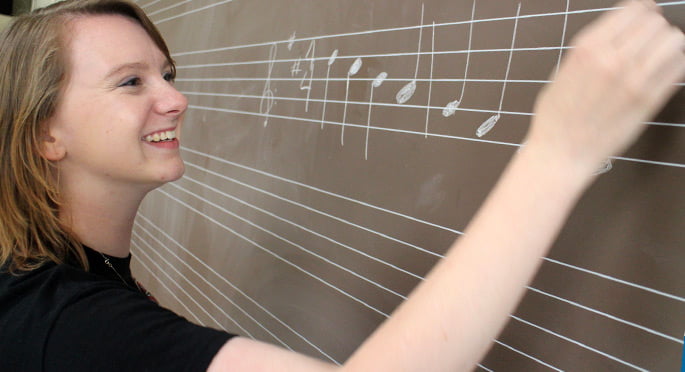 Caitlin Schmidt came to Hastings College knowing that she wanted to teach, just not which subject would capture her attention and her heart.
"I started out at Hastings with a double major in music and science. I hadn't thought to add the teaching portion just yet; I wanted to see what I would like to teach first," Caitlin said. "At Hastings, with the Liberal Arts Program, I was able to try so many new things and also figure out that science really wasn't for me. But music was something I knew I could always come back to and still give me enjoyment."
Before graduating in May with a Bachelor of Music in Education, Caitlin had already accepted a position for the 2014-15 school year at Lindsay Holy Family school in Lindsay, Neb. She will be teaching first through 12th-grade music and art.
"I do not have as much experience in Art but I know that I will manage. I've learned enough at Hastings to know how to teach myself as well as use the resources I have gained," Caitlin said. "Being involved in different classes at Hastings allowed me to become friends with art students. I plan to pick their brains in the coming year to learn as much as I can to help my students excel."
The Cozad, Neb., native has wanted to teach since she was in third grade, but she been actively involved in music for as long as she can remember. Both of her parents are involved in music, and she followed in their footsteps, as well as the footsteps of her older sister, who started Caitlin on the path to being a clarinet player.
"When my older sister joined band, she started playing the clarinet. I wanted very much to be like her so when it came time for me to learn, I too chose clarinet," Caitlin said. "I put it together the day I got it and tried it out. Even though it sounded vaguely as if a car had just slowly run over a duck, I was immensely proud of myself and excited to learn."
Caitlin improved her playing over time, and participated in both marching and concert band at Cozad High School. That experience spurred her to continue playing during her college years, and influenced her eventual college decision.
"I knew I had to be involved in music in college and I thought I wanted to be in the [University of Nebraska-Lincoln] UNL Marching Band. But I also wanted to do so much more. All through high school I was very involved in as much as I could be. I knew I could do that at Hastings," Caitlin said. "So I called UNL the day of my audition and canceled because I had decided to go to Hastings. What really clinched it for me were the amazing scholarships I received and the feeling of home I had whenever I was on campus."
Caitlin played clarinet in the Hastings College Marching Bronco Band and also earned her place in the Hastings College Wind Ensemble, where she had the opportunity to play with the top 40 students at Hastings. As part of her course instruction, she also received opportunities to participate in the Hastings College Choir, the Bell Choir and the Symphonic Band.
By Kaitlin Grode '14