In addition to studying biology, Hastings College seniors Jake Kampschneider, from Omaha, Nebraska, and Abbey Tiell, from Littleton, Colorado, are members of the College Acquaintance Rape Educators (CARE), and are passionate about the preventative measures for sexual assault.
Kampschneider and Tiell were once intrigued by a webinar a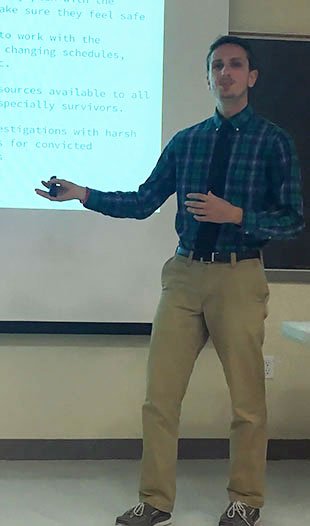 bout the neurobiology of sexual assault. As peer educators, they wanted to spread that message to the Hastings College community and beyond.
"We thought that we could make it less complicated and available to the public because the information was really good. We put together the basic outline of the science and made it more relatable to peer educators and college students," Tiell said.
Their presentation, entitled "The Neurobiology of Sexual Assault," described how the brain processes memory differently during a traumatic event such as a sexual assault. They collected research done by Dr. Rebecca Campbell in 2012, as well as outside research. The pair split up the work; Tiell compiled the neurobiology aspects and Kampschneider organized the implications of trauma.
Kampschneider and Tiell prepared to present their extracurricular project at the BACCHUS National General Assembly in Washington, D.C., last fall.
"It was something we did outside of class," Kampschneider said. "Those are the best things that aren't required, they're your true passions."
Spreading awareness to growing audiences
Kampschneider and Tiell's presentation was well-received, leaving audience members feeling inspired.
They said a few individuals came forward with personal testimonies or with initiative to spread this information on their own campuses.
"People are very receptive of the information because it's not something that people talk about a lot; it's not out there circulating as much as it should be," Kampschneider said.
Since then, the pair has presented at the Meeting of the Minds Regional Conference in Kansas City, Missouri, for the Hastings College Title IX Investigation Team and at the Title IX Consortium hosted at the College.
"It has been the best to continue to spread this information, especially to Title IX coordinators because it relates to what they're doing," Tiell said.
Though they haven't received a lot of recognition for their work, making an impact means more to them than awards.
"I think the fact that people are asking us to keep presenting to different audiences is recognition enough, because that means they're really receiving our message and it's become meaningful in their curriculum," Kampschneider said.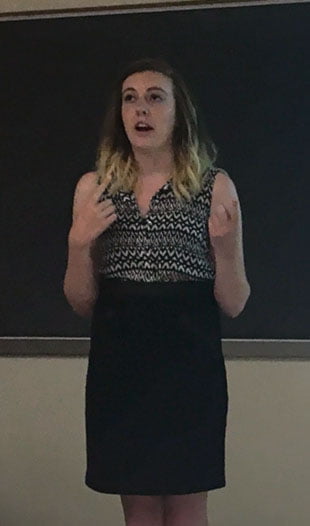 Liberal arts combines disciplines with passions
Both Kampschneider and Tiell believe that Hastings College has given them the tools to tap into their inner strengths and passions and communicate them throughout campus and beyond.
"It's very interesting when science corroborates our passions, and things that society needs to change. I think that mixture and intersection between science and sociology is a really incredible thing to latch onto," Kampschneider said.
Involvement in CARE and sharing their presentation has been a valuable experience for both students. Tiell said that though CARE is not a class, it's something they joined because of the opportunities Hastings College offers for students to make a difference.
"With the community that Hastings College fosters in peer education groups and throughout all of the different student groups, you can find what you really enjoy and go do something with it," she said.
After graduating college in the upcoming year, Tiell plans to pursue a master's degree in public health and someday work with high school and college-aged sexual assault and domestic violence survivors.
Kampschneider plans to go to physician assistant school and give back to his community in every way he can.
For now, Kampschneider and Tiell continue to speak out against sexual assault and hope to share their message with more students this fall.
By Jacilyn Bruns, a senior from Grand Island, Nebraska, majoring in Journalism