Hastings College alumnus Shawn Bydalek '13 doesn't think of his college endeavors in terms of a career. While most students may to consider which career choices are available to them according to their major choice, Bydalek, instead, keeps his focus on what he enjoys doing.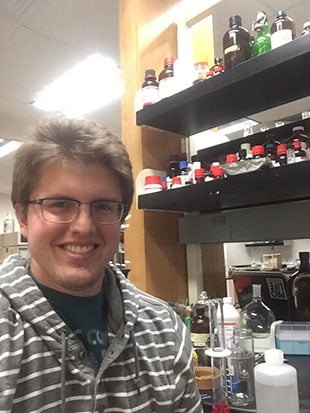 "My master's degree will be more of a stepping stone into something else," said Bydalek, who is currently attending the University of Northern Colorado (UNC) for his master's in chemistry.
"Chemistry, specifically biochemistry, is a subject that fascinates me and I always want to learn more about it, but I also have a healthy range of additional interests," he said. "I would not be surprised if I aimed myself at a particular goal or endpoint and ended up doing something completely different."
In fact, Bydalek already took a monumental turn in his life after he made the decision to leave medical school. After graduating from Hastings College, he was accepted and began studies at the Rocky Vista University College of Osteopathic Medicine in 2013. While he worked tirelessly get in, after four months he made the decision to leave and follow a different path.
"The program was fantastic, great teachers and excellent curriculum, but as I started taking courses and interacting with my fellow students I had the sensation that I had made a mistake," Bydalek said. "I didn't think about my future as a doctor with a sense of accomplishment, as though I had made it to where I always wanted to be. Honestly, the way things have worked out, I think it was one of the best things to happen to me."
Pressing on
Although he left med school, he still had a  passion for healthcare—and an interest in the medicinal applications of chemistry. Bydalek said he believes the work he's been doing at UNC is directly tied to that passion and interest. It doesn't mean, though, that it's always been easy.
"Time management has always been a major challenge for me personally," said Bydalek. "That is just the difficulty of working in the sciences. Balancing all the details of life: family, friends, health, personal interests, etc., can be incredibly overwhelming sometimes. I am glad I am a person with a relaxed demeanor, because I do not let it bother me overmuch."
He also faces the challenge of trying to figure out what to do after UNC.
"I know I could do so many different things, and I have a genuine interest in so many things that I sometimes become a bit paralyzed by my own brand of wanderlust," he said.
Hastings helped Bydalek grow
Originally from Franklin, Nebraska, Bydalek decided to attend Hastings College after a campus visit. He was struck by the small class sizes and the good vibes he felt from professors on campus.
The environment of the College helped prepare Bydalek for where he is in two major ways: through demanding lab and classroom coursework and to be able to engage in discussions with people.
"I had the opportunity to discuss very personal and pertinent topics with people and the campus body at large, and the fact that we were able to have those types of interactions was greatly beneficial to honing my own reasoning and preparing me to handle adverse, challenging and outright uncomfortable situations," he said.
He has fond memories that he looks back on when he thinks of his time at Hastings. Judging a middle school science fair with chemistry professor Dr. Moses Dogbevia, the optics and harmonics labs with physics professor Dr. Steven Bever, reading books to a grade school with biology professor Dr. John Bohmfalk and the biochemistry class and the opportunity to teach apologetics are a few that stand out.
By Amanda Miller, a senior from Woodland Park, Colorado majoring in journalism