Through a summer internship, Alec Munro, a 2019 Hastings College graduate and current Hastings College Athletics Human Performance graduate assistant, built his understanding of the importance of creating bonds with student-athletes and discovered new aspects of the athletic training protocol.
Munro, who majored in exercise science, spent the summer working with a number of teams through the University of Nebraska–Lincoln's Husker Power Strength and Conditioning program. He assisted coaches and athletes, and coached athletes through movement and technique — working with men and women's basketball, volleyball, wrestling, swimming, track, soccer and baseball.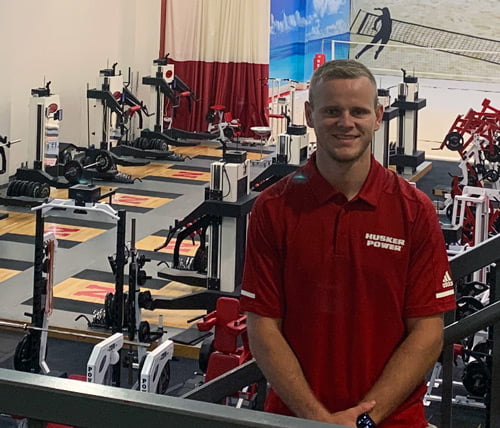 During his first weeks with a team, he spent time building relationships with athletes. He said it's not all about lifting, but about forming relationships and showing coaches you're there to learn.
Munro's duties also included maintaining the workout room, learning the technology and participating in weekly and monthly projects.
Munro worked alongside five other interns — and each had obtained their internship through another peer. It was the connections between mentors at Hastings College and UNL coaches that helped him earn the internship.
"I don't think it's all that unique that all of us all got here through connections. It goes to show how important it is to network with others," he said.
As Munro begins the MAT program with an emphasis in physical education at Hastings College, he wants to incorporate similar iPad app technology from Husker Power. With Hastings College now providing every student with an iPad Pro on campus, Munro said he believes the change is more possible than ever. He explained that if done correctly, incorporating technology along with the culture can be beneficial to maximize the performance of Hastings College student athletes.
During his senior year, Munro interned for the Hastings College Exercise Science and Human Performance Department and got hands-on experience that taught him the skills he used at UNL.
"You can take all the classes and ask all the questions, but you'll never know what it's actually like unless you get out in the field and begin to apply what you've learned," he said.
In addition to internship experiences, Munro earned two certifications needed for his future in human performance, in part thanks to Brett Wells, the director of Human Performance, and Nick Dinan, assistant professor of exercise science. With their support and coaching, he earned his Certified Strength and Conditioning Specialist certificate and the USA Weightlifting certificate during his undergrad time at Hastings College.
"I know if I had gone to another school, I wouldn't have made the connections or gotten the opportunities that helped me get to where I am today," he said.
By Courtney Hanson, a junior from Brookings, South Dakota, majoring in communication studies and philosophy and religion.