An advocate for continually exploring outside her comfort zone, Hastings College alumnus Cheyenne Knehans '18 is currently pursuing her master degree at the California Institute of the Arts (CalArts). Knehans is in the School of Theatre, specializing in Applied Arts. Her degree emphasises are within the field of art direction, scenic scenic artistry and visual communications with aspirations to work within the animation industry as a visual developer and build the role of art director for feature films.
Though Knehans has always been creative at heart, her path to finding her niche as an artist was far from straightforward. Coming into Hastings College, Knehans majored in theatre arts and planned to become an actor, but unintentionally found a passion for set design and scenic art.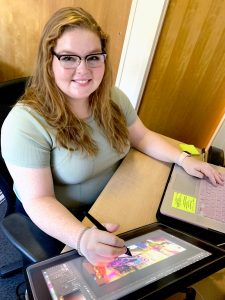 "When I didn't get cast in the spring show my freshman year, [then theatre professor] Annette Vargas knew I had been in some studio art classes and invited me to help with painting the set for a production of "Harvey". I decided to try something new and ended up loving it. I extended my Hastings College degree by adding a studio art major and getting really involved with the art program, while continuing my involvement with theatre as well.
A testament to her involvement in the arts on campus, Knehans was the president of the Hastings College theatre honorary APO and the JDAC Artist Guild her senior year.
Her diverse creative background and willingness to try new things highlighted Knehans's resume, and ultimately set her apart from other candidates when applying to CalArts. Before applying to CalArts, Knehans stepped out of her comfort zone again and moved to Connecticut to complete a residency at an equity theatre after graduating. This helped Knehans gain more professional experience, network with professionals and build her portfolio before applying to CalArts's exclusive program.
Knehans began the CalArts application process the winter after graduation and found support from her former professors at Hastings College, and continues to keep in contact with many of them.
"In the application I really tried to highlight a theatre and a studio art background. Three professors wrote me letters of recommendation and one also looked over my application. My professors at Hastings College were the greatest, not only were they my mentors but they kind of took care of me and checked up on me too. So I think that staying connected is a big deal in my artistic growth," Knehans said.
When CalArts went all online during 2020, Knehans decided to defer a year until she could continue with in-person classes. She made the decision to move back to Nebraska, where Knehans found several new opportunities through substitute teaching and working with the National Willa Cather Center, and Red Cloud Tourism in south central Nebraska.
Knehans was promoted from tour guide to the company's visual specialist for a campaign to restore some of the local historical sites.Though she is back attending classes at CalArts, Knehans continues to map for them on a freelance basis.
Strong connections brought Knehans back to Hastings College during summer 2021 to teach at Open Space,Hastings College's Immersive Summer Arts Program, and continue to impact her education at CalArts. Knehans believes her involvement at Hastings College has benefitted her at CalArts.
"A big part of CalArts is collaboration, since technically it is separated into six different schools, making connections with people from different arts backgrounds is crucial for collaboration. I think my experience at Hastings prepared me for this because I always had friends from the music, history and science department. I've realized that a project can go from a 10 to a 100 just by bringing in people with different creative mindsets," Knehans said.
Though branching out is something Knehans does continually, it looks different every time she does it. As Knehans continues her education and forms her professional goals, she hopes to continue to branch out and take advantage of the unique networking opportunities offered at CalArts, including alumni currently working with big name animation companies such as Dreamworks, Pixar, Sony and Disney Animation. Knehans wants to encourage fellow college students to take risks, seeing how they have paid off in her own life.
"I know that when I first started college I was shy and confined to a comfort zone, then I quickly realized that it needed to expand quite a bit for me to grow in what I love to do, which is art. Go experience something new or listen to someone else's story because it just might be super interesting for you, as well as beneficial for you to learn how they got to where they are. Just branch out, and even in those moments of doubt, just go for it," Knehans said.
By Landry Hinkson, a sophomore majoring in Communication Studies from Bazaar, Kansas.