Hastings College is more than just an institution of brick and mortar; it's a family of students, faculty, staff and alumni who share strong bonds of Crimson pride. This family can be especially helpful for students looking for internships or employment, as senior marketing and web communications major Katie Janky recently found out.
Janky spent the spring and summer of 2016 working at Pacha Soap, a soap manufacturer located in Hastings founded by Hastings grads Andrew '12 and Abi (Burrows) '13 Vrbas. Working alongside Abi, the company's brand manager, Janky created a social media campaign, entitled #SoapCanChangeLives, which is based around Pacha's mission statement.
It's all in the family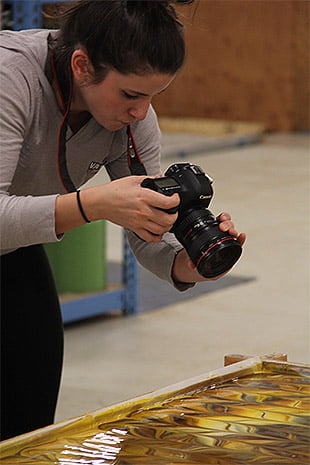 The benefits of working with another member of the Hastings College family were evident for Janky early on.
"Abi and I shared a lot of the same professors and had taken the same classes, so it was really easy to relate to her," said Janky. "She made me feel more like a colleague, and not just an intern to do the busy work."
Janky's welcoming treatment as an intern is exactly what one would expect from Pacha. The company was founded in 2011, inspired by Andrew Vrbas' experience volunteering in the Peruvian Andes. In fact, the name Pacha means Earth in the indigenous Peruvian language of Quechua. Pacha Soap is known for their humanitarian efforts and all-natural ingredients; each bar of soap purchased goes toward setting up soap making shops and clean water initiatives that provide people in developing countries with drinkable water and opportunities for entrepreneurship.
Janky relished working with such a giving-minded company, as well as the challenge of producing at a high level, having worked previous internships and gained additional experience in upper-division class projects.
"I had already completed a 30-page deliverable document, essentially a project proposal, for one of my web communications classes, which forced me to bring my best ideas forward in a limited amount of time and in a formal format," Janky said. "Creating and submitting a deliverable document on the social media campaign was one of my first projects at Pacha, and having that experience from my classwork gave me a leg up early on."
#SoapCanChangeLives
The #SoapCanChangeLives social media campaign was conducted over six weeks, split into three two-week segments based on the three points of the company's mission, which states that the company will:
CREATE the finest environmentally sustainable products while providing maximum benefit to all stakeholders.
SUPPORT W.A.S.H. (Water, Sanitation and Hygiene) efforts through education and donation.
IMPLEMENT sustainable solutions to the poverty cycle through through entrepreneurship.
The three segments, titled #PachaEmpowers, #PachaSupports and #PachaCreates, each featured a main video, as well as shorter supporting feature videos and social media posts driving web traffic to the videos.
The campaign was a success, with each of the three focal videos garnering thousands of views on the Pacha Soap Facebook Page.
"The videos themselves were popular, which drove traffic to the site up as well, which was exactly what the campaign was intended to do," said Janky.
Balanced success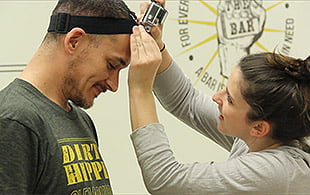 In addition to her previous experience with video editing and creating a deliverable document from her classwork, Janky also built skills in time management at Hasting College, which helped her reach success at Pacha.
"Balancing a full class load, the Crimson Spirit Dance Team and internships forced me to learn how to manage my time effectively, which is a key skill in the real world," Janky said.
According to Associate Professor of Communication Arts Brett Erickson, Janky's time management is rivaled only by her performance in the classroom.
"Katie is an excellent student, which is evident not only in her ability to manage time well, but also the high level of work she produces in class. As her advisor and one of her professors over the past four years, it is no surprise that her internship with Pacha was a success," he said.
For current and future Broncos considering an internship, Janky eagerly offered the following advice.
"Internships are how you as a student can prove your worth in the real world, a chance to put all of your classwork and preparation in college to practice," said Janky. "I've completed four internships while at Hastings, and each one has allowed me to improve my skills both in my specific field and as a person in general. I highly encourage anyone to work two or more internships, you can never have too much experience going into the real world upon graduation."
By Nick Musgrave, a senior from Parkersburg, West Virginia, majoring in history and political science