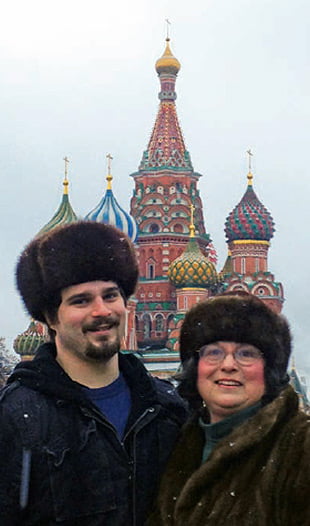 Thanks to an exchange program and supporting grants, Hastings College student Ian A. Tuttle had an opportunity to spend his junior year in Russia at Pyatigorsk State Linguistic University (Pyatigorsk is a city in the North Caucasus region).
Ian, majoring in international studies with a European emphasis, took classes in Russian language, history and culture.
"I had the opportunity to travel to many regions in Russia as well as the countries of Azerbaijan and Georgia, and I presented as a guest lecture at the North Caucasus Symposium on Dec. 10, 2013, on National Identity in Russia," said Ian, a native of Bellevue, Neb.
One of the grants that supported Ian's travel and learning opportunity was the Knappenberger Fund for Student Travel and Experiential Learning, a fund that honors Elisabeth Elm and is supported by her children and spouses, Joe '64 and Ginny Knappenberger, Paul and Peg '66 (Knappenberger) Rupprecht and Larry and Kas '69 (Knappenberger) Eldridge.
"It is rewarding to see Hastings College students broaden their understanding of the world through experiential learning opportunities," Joe said.