Mixing a little creativity with a dash of hard work, Hastings College senior Madison Hemphill has turned a childhood tradition of baking into a full-time internship. Growing her desire to learn the craft, she works alongside a head chef with impressive credentials to create a variety of baked treats in a fast-paced environment.
The opportunity was "a blessing from God," said Hemphill, as she responded to questions during a break from her pastry chef internship at the Cherry Hills Country Club in Cherry Hills Village, Colorado.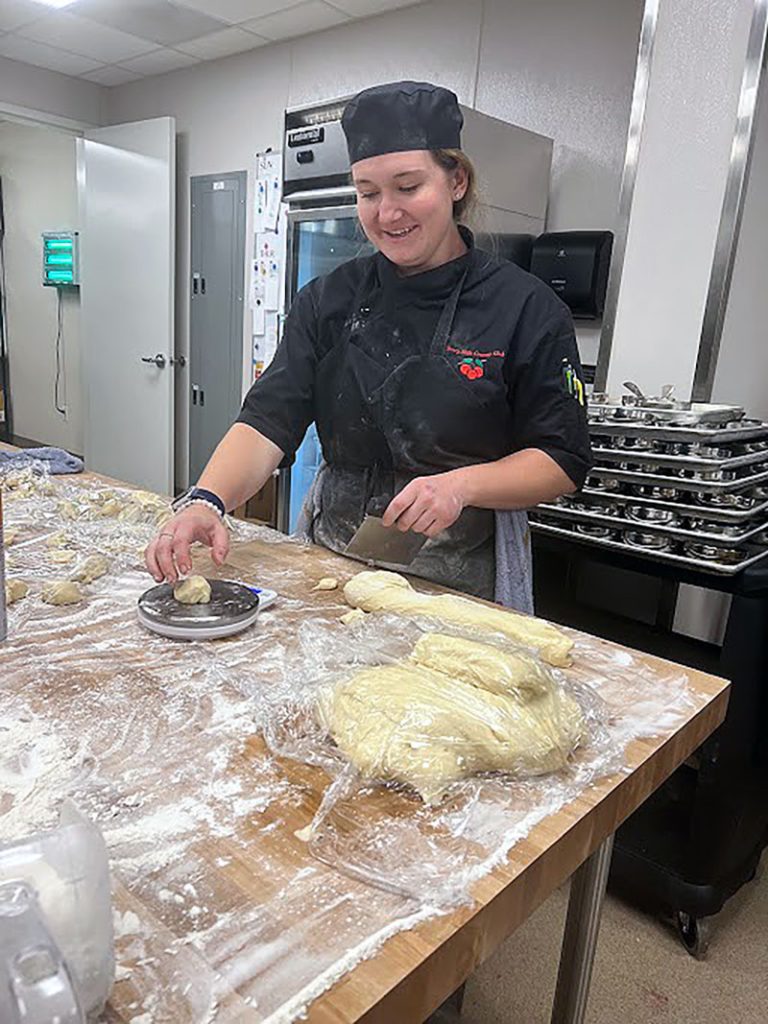 Baking started as a father-daughter tradition while growing up for Hemphill, of Highlands Ranch, Colorado, who is majoring in business administration and minoring in hospitality management and culinary arts.
"My dad and I would bake together anytime we could. It grew our bond and made it special over the years. I remember his popular chocolate cake he would bake that I still ask for every time I go home," Hemphill said, adding that this childhood tradition helped spark the idea of turning it into a career.
Hemphill enjoys the precision and creativity that goes with baking. Although it's more tedious to bake than cook because one imprecision can ruin the entire recipe, Hemphill said it's rewarding when a recipe comes out perfect.
When looking for an internship that involved baking, Hemphill contacted Kim Graviette, director of Career Services, who connected her to Handshake and Indeed to look for pastry chef internships. She applied for the position in January of 2023, using Zoom for the interview with the sous chef at the country club.
"When I received the internship, I knew it was a sign from God that this is my true path and I thank Him every day for giving me this opportunity to learn more about what I love to do most," Hemphill said.
Hemphill, who is on the Hastings College women's softball team, said she was thrilled to tell her teammates and coach about the opportunity. "My teammates and coach Troy Baker were so supportive and happy for my internship opportunity at the country club," Hemphill said.
Hemphill said Baker was a big supporter of her journey in looking for pastry chef internships. He even recommended her to the head baker at Michelle's Scrumptious Bakery, which is near Hastings in Juniata, Nebraska.
Hemphill's day in the bakeshop for her internship involves baking cookies, cakes and doughnuts, and icing baked treats for the two restaurants. She learns and works with executive chef Timothy Roberts, who worked alongside many renowned chefs across the world, Gordan Ramsey and Nobu Matushisa.
"Learning from Chef Roberts has been a blessing because in the pastry industry, it's very rare you get to work so close with an executive chef with those connections to the cooking industry," Hemphill said. "I have learned so much from him and I improve my skills daily as I begin to acclimate to the fast-paced environment in the bakeshop."
Since interning for Cherry Hills, Hemphill has taken teamwork skills she's learned while being a teammate at Hastings College.
"In the bakeshop, there is a team mindset because we all work together to reach deadlines, and if one of us has a question we help each other to learn and improve. Having that skill from softball and Coach Baker is really useful," Hemphill said.
Hemphill said she intends to go back to Cherry Hills full-time after graduation, although her long-term goal includes an at-home bakery business where she can bake and enjoy time with family. Just like she did growing up.
By Cecilia Velarde, a junior marketing and communication studies double major from Loveland, Colorado