Two Hastings College 2019 graduates are completing a year of service with CityYear, an organization through Americorp. Both Austin Heinlein and Andie Paschal have found community in the schools they work in, and through their experiences, have thought about changing their career trajectory.
CityYear is an education-based non-profit organization that helps inner-city schools boost student attendance, behavior, and course-work. Its goal is to decrease the national drop-out crisis in the United States through purposeful mentorship. The organization sends volunteers to work in systemically under-resourced schools.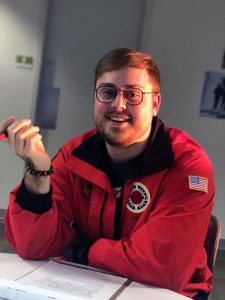 There are 29 sites throughout the country that CityYear volunteers can go to. During the application process, volunteers have the option to pick their top three preferred locations or they can choose to be randomly placed anywhere. Heinlein and Paschal both chose to be placed anywhere. Heinlein was sent to Tulsa, Oklahoma, and Paschal to Sacramento, California.
Heinlein, a Hutchinson, Kansas, native, wasn't sure what to expect in Tulsa, but he said it's been a perfect fit for him. He discovered CityYear while looking for educational service work and a friend also suggested he give it a look.
The history and theater double major starts his days by greeting students as they come into school before going to the middle school math class he helps out in. Along with helping the entire class, he works closely with 34 students and does weekly five to 10-minute check-in meetings with each of those students.
When he initially came to college, Heinlein said he wasn't the best at school, but history professor, Dr. Robert Babcock, helped him further his skills and overcome reading barriers he had during his first year. He said he uses the skills learned at Hastings College to help the students he works with every day.
"Education is difficult for many to achieve. Language barriers, family, and many other things can get in the way," he said. "Watching the students grow every day because of the work the other volunteers and I have done is the biggest reward."
Paschal got involved with CityYear when she started to look at the AmeriCorps website her senior year at Hastings College. The Mancos, Colorado, native continued researching the organization and realized it was a perfect fit for her.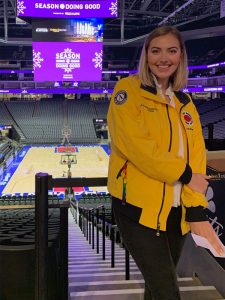 Also placed in a middle school, the sociology and religion double major, works alongside an English teacher. She starts every day with a morning circle with her CityYear colleagues to prepare for their day of service. She then helps with morning support and checks-in with students before going to the classroom she helps assist in throughout the day.
In the classroom, Paschal helps students follow along with readings and stay on task. She also works individually with nine students to cultivate academic and social-emotional skills.
Paschal also supports students outside of the classroom by helping coach the volleyball and girls basketball teams.
"Getting to see students outside the classroom has strengthened my relationship with them because it doesn't have to be so formal," she said. "I think coaching them has helped them trust me more."
Paschal said she uses Hastings College professors as a model to work with students. She said her Hastings professors genuinely cared about her as a person and worked their hardest to make sure she and every student had a fulfilling, learning experience.
"My Hastings College professors taught me to remind my students everyday that I care for them, I want them to succeed, and I want what is best for them," she said.
Since CityYear is only a one year program, Heinlein and Paschal have to decide what comes next. While both are considering options, continuing another year with CityYear or going into education themselves are possibilities.
"Being in the schools has really changed my life because I never thought I'd want to be a teacher before, but now, it's something I'm seriously considering because the students are what makes it worth it," Paschal said.
By Courtney Hanson, a junior from Brookings, South Dakota, majoring in communication studies and philosophy and religion