Not everyone knows what their path will be when they choose their major in college. For Hastings College graduates Natalie Hoffmann '19 and Victoria Hervey '18, their similar passion for law was found through different academic routes.
Hoffmann, an ag business major, and Hervey, a double major in political science and sociology, didn't cross paths much as students at Hastings College, but struck up a friendship while attending law school together at the University of Nebraska– Lincoln.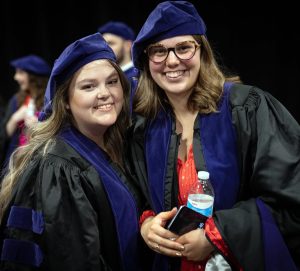 Despite their diverse academic backgrounds, the two share an undergraduate experience at Hastings College that helped them define their motivations, and the areas open for those motivations to turn into job opportunities.
For Hoffmann, the fourth generation of a farm family, this looked like realizing how her passions for law and agriculture could work together.
"I always had an interest in law, and growing up on a farm I always loved agriculture. But after getting my ag business degree at Hastings College, I kind of saw our operation through that lens and knew I wanted to get my law degree," Hoffman said.
Hoffmann first practiced as an associate attorney at Bacon, Vinton & Venteicher Law Firm in Gothenburg, Nebraska. This role had a strong connection to agriculture and rural life, often dealing with estate planning, real estate contracts and economic development, which was a perfect fit at the time.
Hervey's law career went in an entirely different direction, but one that is equally fulfilling for her. She currently works for Lindemeier Law office and also for Lincoln County as a public defender, primarily practicing family law.
While she is presented with a variety of cases, Hervey has really found her passion in juvenile law. Here, Hervey has the opportunity to work with clients under the age of 19 that are charged with a crime, as well as representing parents and children in child welfare cases.
"Personally, I really enjoy the children's welfare cases because I get to work one on one with the kids and I really get to know them. I see their environments, how they've grown up and I help make a recommendation of what is in their best interest," Hervey said.
This wasn't what Hervey always had in mind for her law career. Though she envisioned herself going to law school since she was an elementary school student, she always dreamed of being a prosecutor. It wasn't until her last year of law school when she participated in the College of Law's Children's Justice Clinic that she realized practicing juvenile law was where she felt drawn.
"I wrestled with the decision to work for Lindemeier for a while, just because I had to be a public defender in this role and I had worked the prosecuting side of law for so long. But I thought it was a good challenge, and I got to work on cases I was passionate about. I'm really glad I decided to take the risk and try the other side of the criminal world."
In a recent turn of events, Hervey and Hoffmann will be working together at Lindemeier Law Office, as Hoffmann took a position at Lindemeier. Her passion for rural law remains, but she is looking forward to using her profession to help people through difficult circumstances, as well as the opportunity to work with her old friend.
"I've done a complete 180 in my career. I'll be working in criminal defense, juvenile law, and family law as well as continuing to do estate planning. I'm most excited for the opportunity to assist people who are possibly going through one of the worst times of their lives. It will be great working with a fellow HC grad. Tori will be a valuable resource in helping me learn about the new practice areas I'll be working in," Hoffmann said.
Career paths change in college, and as Hoffmann shows, sometimes they continue to change throughout one's professional life when one continues to follow their passion.
By Landry Hinkson '23