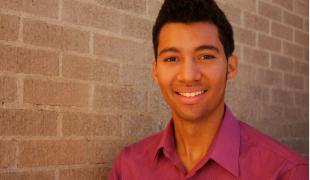 "I woke up one day late January, and I thought, 'I want to direct a show,'" said Jacob Gilchrist, senior vocal performance major from Colorado Springs, Colo.
And thus was born a musical revue that is anything but ordinary.
The program, which Jacob describes as "a little mix of everything: from comedy and classic Broadway, to contemporary musical theatre and stirring serious moments," follows aspiring actors before a show is cast.
Jacob explains: "All of the characters in the show reflect a truthful piece of what it's like to be a performer– namely, the why we do it, and what we'll do to reach our dreams. The show was written about actors, but I think the messages are true for anyone who has something they're passionate about."
The musical theatre fan found starting to write the production "a daunting task — not because of lack of inspiration."
"I had to consider so many options of songs to include," said Jacob. "Once I settled on a program, writing the rest was easier."
For Jacob, the revue reflects his four years at Hastings College during which he's prepared for a professional performance career.
"[I]t's been a wild journey of emotions and realities to face as I've honed my skills here," he said. "The thought of taking that next step into the real world of music and theatre is what drove me forward with this project."
[anything but ordinary] debuted on April 12, 2014, in French Memorial Chapel.