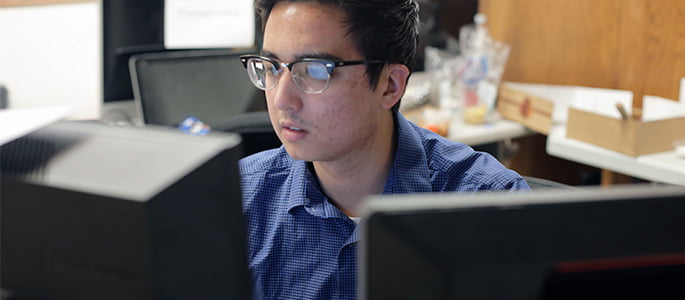 Arduous application processes and interviews have paid off for Hastings College senior Alex Eisele, who landed a position as a Technology Analyst at Goldman Sachs in New York City, starting in the summer. With a major in computer science and a minor in mathematics, Eisele interviewed with companies like Microsoft, Google, Cerner, Amazon, IBM and Garmin.
"My interest in programming/software development is driven by its foundation in problem-solving partnered with the creative aspect of build something from the ground up," said Eisele. "I like making a product which presents me with new problems each day, not just repeating a process. I'm actually using my knowledge to make something new."
After being contacted by a recruiter from Microsoft in September 2014, he was referred to Goldman Sachs, where his official job will begin in July. He will go through orientation for six weeks with all other analysts across various divisions at Goldman.
"I probably won't learn a new technology right away, but rather trained on the specific technology practices within the Goldman Sachs engineering division for new technology analysts so we'll be jumping into our respective teams prepared to handle the financial software needs of the firm," said Eisele. "Unfortunately as with many junior developers across the industry, the new guys don't get to work on anything cool or new. You're there to maintain code that's already written—which is okay, because that's how you learn the ropes and know what the company is like."
When considering where to apply for jobs, Eisele took location into serious consideration. "I had a couple offers from the Midwest but I definitely want to work in a tech hub of the country, which meant Silicon Valley in San Francisco, New York or Seattle so that's where I was focusing my job applications," he said. "It was really nice to get a job in one of the cities that has a booming software development community."
He also spent a lot of time developing lists for companies based on what credentials he could meet and followed these criteria: a strong software division, Fortune 500 Company and the potential for a lot of learning. From there, he was able to decide where to apply that would benefit him most.
He showed a particular interest in Fortune 500 companies because "they're usually the ones with the excellent software engineering divisions," said Eisele. "Having a big company on your resume right off the bat is more valuable out of college right now, which allows you to pursue a startup once you have more experience."
After going through 14 interviews, Eisele settled on Goldman Sachs. "Just looking at the potential and a company with the prestige of Goldman, I was not willing to pass that up for something else, and it has actually worked out well with interview season winding down now for computer science majors," he said.
For the 2014-15 academic school year, Eisele has filled the position of Student Association President, helping to oversee different campus events and working to meet the needs of students.
Eisele said Goldman is a company that highly values leadership experience. "That is something they want all of their employees to understand well and embrace as they are an organization that leads and has a high level of prestige in the industry," he said. "Having the highest profile leadership position at Hastings College was certainly something that stood out and they pointed out in my interviews."
He not only has experience leading the student body, he also works on a team providing quality customer service. Working at the Hastings College IT Help Desk required Eisele to focus more on computer maintenance. "Because it was an entry point for me into a technology field and since it taught me so much I find it to be an important experience that has supplemented my development up to this point," he said.
Eisele also worked with student and colleague Creighton Leif, in order to create an app for Hastings College that could be used by students on both Apple and Android mobile phones. "Creating this app using the knowledge I've received from my Computer Science degree is what made me stand out to recruiters at Google, Microsoft, Amazon and IBM, in addition to Goldman," he said. "This app not only diversified my programming experience but is also a project that taught me a great deal about responsibility, working with potential users on my own, meeting requirements and using technology to benefit others and their needs."
By taking what he learned in the classroom and applying it to a personal project that greatly used today, Eisele said it helped him stand out in his interviews.
When he first started interviewing, Eisele said he prepared himself by reading books like the Algorithm Design Manual, which has information about algorithms and data structures. "Now that I'm on a team and have this position secured, I've been reading a book on software design patterns and software construction called Code Complete. It's a really well-known book in the industry and it's been around since 2004 but the content is still relevant to software today," he said. "It's really about designing software well and designing secure software."
As an American multinational investment banking firm, one might wonder how software design is involved at Goldman Sachs.
"They need information and requests to be made very quickly because they need to keep up with the market, since they're competing against other banks on Wall Street," said Eisele. "Their engineers are working on software that is there to provide information to those financial analysts and traders, so that they can do their job efficiently. A lot of the software that they write is in-house and, comparatively, with the other major investment banks, Goldman's has the largest ratio of technology-oriented employees, showing how much they value their Software Engineering Division."
After visiting the company and seeing their team-based environment and going through the interviewing process with them, Eisele said it almost seems as if they are an investment bank that knows it is a software company.
Already considering the future, Eisele is searching for a place to live in Brooklyn. "I'm excited to move to New York," he said. "I definitely want to move to and enjoy the big city while I'm young."
By Amanda Miller, a junior from Woodland Park, Colorado, majoring in journalism