After Hastings College MAT student Cole Fisher '19 landed an internship with the University of Minnesota athletic staff in February, he thought he'd observe coaches, work with athletes and get hands-on experience. COVID-19, however, completely changed the way his internship looks.
Instead, the internship is more academically focused— and has provided valuable lessons for a future career.
The Omaha, Nebraska, native starts his day with a meeting at 7:00 a.m. with an intern coordinator before getting into the presentation and discussion-based projects he and six other interns participate in.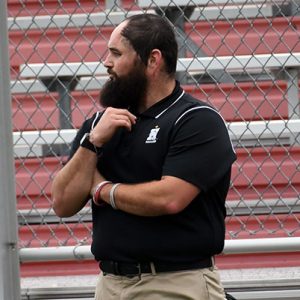 Fisher leads two presentations each week that cover different topics related to strength and conditioning. One is more of a discussion-based presentation, while the other covers a peer-reviewed article in detail. To prepare for the weekly presentations, Fisher adds an extra three and a half hours to his weekly work schedule.
Fisher, who graduated in 2019, is now working toward his Master of Arts in Teaching (MAT) degree with an endorsement in K-12 health and physical education. He said the academic nature of his internship has helped him understand the value of incorporating research into his coaching practices.
"There is value in continued self-education and looking at research," he said. " Learning never stops, and it's important to stay up-to-date in best practices."
With a virtual internship, Fisher had to build relationships with people he's never met. Yet, he said he can hold a regular and deep academic conversation with people he's only ever communicated with through a computer screen.
"First impressions are huge, and it's hard to have that over computers, but I somehow still feel so connected with all the people in my program just over video chat," he said. "It's been a good experience, even if not what was originally planned."
During the academic year at Hastings College, Fisher works as a graduate assistant in the weight room for Brett Wells '14/MAT '16, Hastings College director of human performance. A previous graduate assistant, Haydn Jones '19, currently works for the University of Minnesota and referred Fisher for the internship.
Fisher said he appreciated the Hastings College connections when looking for an internship. After receiving his offer from Minnesota, Fisher applied for a Passport to Possibilities grant, a Hastings College program that financially supports student trips or unpaid internships.
Fisher said he felt fully equipped to take on his internship even in a unique setting.
He said Wells served as his mentor throughout his time at Hastings College, which helped him gain the skills and experience he needed to excel in his internship with such a high-level strength and conditioning program.
"Wells gave me coaching experience, direction, connections and lessons," he said. "I can work with any coaching staff because of the experience I've gained at Hastings College."
On top of the skills Fisher has learned in his masters and undergraduate programs, he said that the human performance program has helped him find himself.
A few years ago, Fisher said he never understood the saying "trust the process," but after being at Hastings College, the words finally had a meaning to him and changed his life for the better.
By Courtney Hanson, a senior from Brookings, South Dakota, majoring in communication studies and philosophy and religion.