From working with Microsoft Power Apps in the environmental safety department to recoding an old dispatch system, Hastings College junior Caden Egr of Yutan, Nebraska, is fulfilling his passion for coding while gaining experience during his summer internship with Scoular at its global headquarters in Omaha, Nebraska.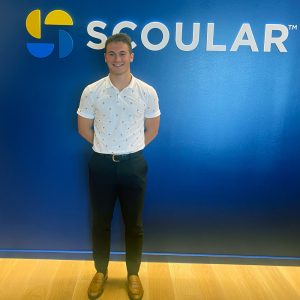 Scoular is an employee-owned, $9 billion global agribusiness company that buys, sells, stores, handles and processes grain and ingredients. It employs 1,400 people in more than 100 offices and facilities in North America and Asia.
Egr, who is majoring in business administration and computer science, was looking for an internship where he could interact with colleagues, gain experience in code and do more than sit at a computer all day.
He found Scoular as an option, and the Hastings College Career Services office gave him a reserved conference room for the interviews. They also helped prepare him with interview questions so he would feel more comfortable.
The workload for Egr includes multiple small projects throughout the week and attending meetings with his supervisors, internet technology teams and web design teams. Egr's latest tasks have been working on two large coding projects.
"The first project is working with Power Apps also known as Microsoft Power Apps, for the environment safety department. So I build the forms and tables that will take all the data and only be visible to the environmental safety supervisor," Egr said.
His second project involves data mapping for trucking dispatch. "I am trying to recode the old dispatch system and organize it by file so it's easier to utilize," Egr said.
Egr said math and computer science professor Dr. David Cooke's coding courses and math professor Dr. John Schneider's web development classes helped him get familiar with code, how to read it and how to understand the structures of low-code environments. Egr also credits his football coaches for teaching him about accountability and teamwork, which he applies daily.
Egr said he plans to contact Scoular again next spring for any opportunities to return to the company.
"Because of the environment of the office members and the real-world experience I'm gaining at Scoular, I want to come back next summer to work for another department," said Egr. "I want to broaden my horizon in the field of coding because when I work here at Scoular they treat me like any other employee, not just an intern."
By Cecilia Velarde, a junior marketing and communication studies double major from Loveland, Colorado