When starting her career in a high school this fall, Melissa Burke '17 wasn't expecting her job to be fully online. The Hastings College psychology and health administration graduate works as a school social worker at the Chicago Tech Academy, a charter school in Chicago, Illinois. While the school is entirely virtual this year, Burke doesn't know any different.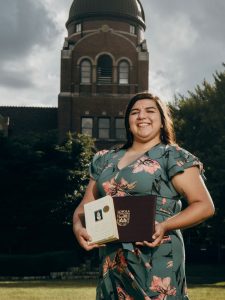 In the spring of 2020, Burke graduated from Loyola University in Chicago with a master's in social work and jurisprudence. During her last year of school, Burke attended a career fair and had a long discussion with a charter school representative.
"When I was beginning my career search, I was only interested in public schools," she said. "But after that conversation, it changed my mind about charter schools, and I ended up leaving my resume with him."
At the high school, Burke provides therapy sessions for students who have Individualized Education Programs (IEPs) and are in the special education program. She works with students who have emotional dysregulation, autism and behavioral issues, among other diagnoses.
"My job is to work on a wide range of skills with the students, from how to make tough decisions, stopping and thinking about their actions–it's different every day," she said.
Burke loves to work with her students; it's what makes the job worth it for her. Every day the conversations are different, and it keeps her on her toes. There are tough conversations on the job, but it makes her want to keep going.
"I have to remember that my students' problems are real, COVID is a thing, and multiple factors are going on that I don't see at school," she said. "It's amazing how open these students are with me, and it makes me feel great that they are comfortable with me."
During her time at Hastings College, Burke was heavily transformed by her professors' willingness to help and meet with students.
"I was a quiet person in class, but I became more comfortable," she said. "In grad school, I was able to speak out in class and voice my opinion in a productive manner."
Burke also worked closely with Dr. Stephanie Furrer, Hastings College professor of psychology and chair of psychology and sociology, while in undergraduate years. They worked on a research project about how nature is essential for students to refocus their space and practice mindfulness.
"Dr. Furrer gave me a lot of tools that I utilized in graduate school, and I appreciate her mentorship and willingness to help me succeed," she said.
By Courtney Hanson, a senior from Brookings, South Dakota, majoring in communication studies and philosophy and religion.